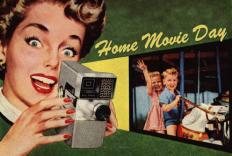 Bring-your-own film event takes place 2 to 5 p.m.; event is free and open to the public
Rochester, N.Y.
- You are invited to celebrate home movies in Rochester on Saturday, Oct. 17, as part of the seventh annual International Home Movie Day, which takes place simultaneously in cities across the world. The Rochester celebration takes place 2 to 5 p.m. at Visual Studies Workshop, in collaboration with George Eastman House. The event, which is free and open to the public, is a worldwide celebration of home movies and amateur films that provides the opportunity for communities to see and share home movies, and learn how best to care for them. In honor of Rochester's 175th anniversary, films of the Rochester area are particularly encouraged (note: organizers have their eyes out for footage of Midtown Plaza in its heyday). You are welcome to share your own 8mm, Super-8, or 16mm home movies, which will be inspected by professional archivists and projected on the big screen for all to enjoy. But please note, home movies do not need to be your own family's, but can also include found films. Advance submission is encouraged, so reels can be inspected and prepped for screening. You may drop off your films to Visual Studies Workshop (VSW), 31 Prince St., between 10 a.m. to noon Tuesday, Oct. 13 and 14; 5:30 and 7:30 p.m. Thursday, Oct. 15; and the day of the event from 1 to 3 p.m. Saturday, Oct. 17. All reels will be inspected by Eastman House and VSW trained staff and all films will be returned. Participants are invited to provide commentary about their films with the audience, as well as sing along or play music. "We encourage those attending to participate as much they'd like on Home Movie Day by narrating their home movies, bringing a favorite song to accompany a movie, or asking questions following a screening," said Pat Doyen of the George Eastman House Motion Picture Department. At the Rochester event, there will be information available on how to properly care for your movies, including transfer options and local vendors, as well as raffle prizes. Though video and digital recording now dominate the home-movie market, it is argued that these formats do not have the same quality as the old films you may have in your closet, attic, or basement. Home Movie Day events provide an opportunity for individuals and families to learn more about their own family movies, how to care for films, and how home movies have helped capture 20th century history. International Home Movie Day is coordinated under the auspices of the Center for Home Movies and grew out of the concerns held by film archivists for the fate of all the home movies shot on film during the 20th century. More than 50 cities take part in International Home Movie Day, in addition to events in Canada, Italy, England, and Japan. Here's what Martin Scorsese has to say about International Home Movie Day: "Saving our film heritage should not be limited only to commercially produced films. Home Movie Day is a celebration of these films and the people who shot them. This is a truly special way of celebrating this often over-looked area of our film history, and I congratulate George Eastman House for supporting this important initiative." Admission and participation is free but donations will be accepted. The site is wheelchair accessible. For more information please call (585) 271-3361 ext. 370, or visit www.homemovieday.com/rochester.html or
homemovieday.com
. In conjunction with the event, the Dryden Theatre at George Eastman House will feature a display of amateur film equipment and ephemera in its lobby during the month of October.
###
Media Contact:
Dresden Engle
/wp-admin/dengle@geh.org
(585) 271.3361 ext. 213