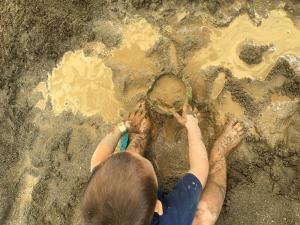 Cornwall, NY –On Saturday, June, 26,  join the Hudson Highlands Nature Museum at the Outdoor Discovery Center location, on Muser Drive, across from 174 Angola Road, Cornwall to Celebrate International Mud Day with 45 minute play sessions from 10am-3:45pm.  Welcome Summer with a mud-riffic day of play in Grasshopper Grove! Join children in dozens of countries around the globe in celebrating this day of splashing, rolling, squishing, sliding, and appreciating nature and the great outdoors.
According to Nature Museum Educator Taylor O., "Mud Day allows children and parents to break loose from usual everyday restrictions, encouraging them to get dirty and messy in the mud. This can help foster a deeper physical connection to the natural world in a fun and creative way. And remember, Mud Day is not just for the kids!" Be sure to bring a towel, change of clothes, your imagination, and a sense of adventure to enjoy this day of summertime fun! 
Admission & registration per session: 48 guests are permitted per play session. Nature Museum Members: FREE. Not-yet-Members: $5 per person (Children 2 and under are free). Pre-registration is STRONGLY suggested as this is a popular program and spaces are expected to fill up. Call 845-534-5506 from 10am-3pm to register. Walk-ins are welcome if space allows.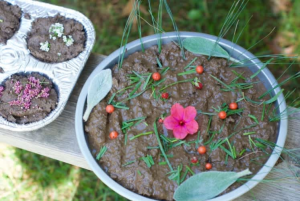 In addition to the event, the Nature Museum is also hosting a virtual Mud Pie "Bake-off!"  for ages 10 and under through Saturday, June 26th! Submit a photo (one please) of your mud pie to jreisner@hhnm.org and the winning pie, as voted on by HHNM Staff, will win a prize from the Nature Shop! Visit hhnm.org for more information. 
                                                                     ###
Photo Caption: On Saturday, June 26, join the Hudson Highlands Nature Museum to Celebrate International Mud Day in Grasshopper Grove. Pre-register at 845-534-5506. Visit  hhnm.org for more information. Mud Day photo by Mike Adamovic. Mud Pie photo provided