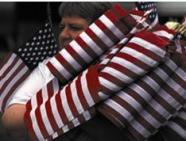 150 years after start of Civil War, 12th annual Celebrate Commemorate marks the 145th consecutive community-wide celebration and observation of Memorial Day, spanning holiday weekend
Waterloo, N.Y.
- Celebrate Memorial Day where it all began, in Waterloo, NY in the very heart of the beautiful Finger Lakes, and the nationally designated Birthplace of Memorial Day. This fun-filled weekend has something for the whole family! Car shows, parades, a culinary tent with demonstrations and presentations, boat tours, pony rides, Civil War re-enactors, fireworks, horse and wagon rides, living history, a biker rally, traditional speeches and ceremonies, and even a few former presidents!  Festivities kick off Friday evening, with the Henry C. Wells Award Reception at the Waterloo Library, sponsored by the Waterloo Library and Historical Society. The event will also have a special guest speaker:  President Theodore Roosevelt (re-enactor). Following the reception, an Illumination Ceremony at the American Civil War Memorial by Oak Island signifies the start of this 4-day event. Saturday, May 28th, Living History Day begins on Oak Island at 9am and the day also ends at Oak Island with a concert followed by fireworks that night. This year, there is an extensive Living History Schedule of events for all ages, from how to make a handkerchief doll for the kids to a Civil War surgeon describing his duties to cannon firing and infantry drill demonstrations to President Lincoln inspecting the troops. A full list of Living History events can be found by clicking on Celebrate Commemorate 2011 at www.waterloo.ny. On top of that, there  is a volley of activities and events throughout the Village including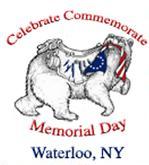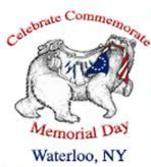 the Celebrate Parade which begins at 11am, patriotic and pop concerts, military displays, car shows, canal tours, train tours, walking tours, horse and wagon tours, miniature horse and wagon rides, arts & crafts, children's entertainment with clowns, musicians and more. Add to that, lots of food! From concessions to the Seneca County Culinary Tent to a pizza eating contest. And throughout the weekend, visitors will spot President Roosevelt and President Lincoln giving speeches and talks throughout the community. A full schedule of events can be found at
fingerlakescentral.com/
under Events. On Sunday, May 29th, the Celebrate 5K run kicks off at 8:30am, and an antique car show along with a Woodie car show at 11am on Main Street.  The day is filled with everything guests couldn't get to Saturday, culminating with an easy Rock concert at 4pm at Lafayette Park. Monday winds down the weekend with a Motorcycle Rally starting at the VFW at 8:00am with the ride beginning at 10:00am. Over 200 riders are expected for this 2-hour ride. Monday is also the official Memorial Day. To remember the day, there will be many traditional ceremonies and services that day starting with full military services at 8:30am at St. Mary's Cemetery, a VFW March and services at Maple Grove Cemetery, a traditional Memorial Day parade at 6:00pm followed by military services in Lafayette Park. Memorial Day started in Waterloo, NY as a conversation between prominent Village druggist Henry C. Welles and some friends at a social event honoring Civil War Veterans. He felt people should also remember and honor the sacrifices of the war's fallen heroes. General John B. Murray, a civil war hero and intensely patriotic, supported the idea wholeheartedly and marshaled veterans' support. On May 5, 1866, the Village held its first community-wide observance with solemn ceremonies and the decoration of soldiers' graves. The ceremony was moved to May 30 in 1868, and became known as Decoration Day. The term "Memorial Day" was first used in 1882, but didn't become more common until after World War II. On March 7, 1966, the State of New York recognized Waterloo by a proclamation signed by Governor Nelson A. Rockefeller. On May 26, 1966, President Lyndon B. Johnson, signed a Presidential Proclamation recognizing Waterloo as the Birthplace of Memorial Day. Interestingly, Memorial Day did not become the official name of the Holiday until 1967. The full story behind Memorial Day can be found at the National Memorial Day Museum on Main Street in Waterloo. The museum also houses many historical military and period displays. The museum will be open to visitors during Celebrate Commemorate, as will the Terwilliger Museum which is an annex to the Waterloo Library & Historical Society on East Williams Street. The Terwilliger Museum chronicles the history and development of Waterloo. Don't miss out on the food, fun and family good time! There is no charge to attend, while some of the activities have a small fee attached. For more information, contact Doris Wolf, Celebrate Commemorate Committee and PR Chair, at
Wolfdoris2@gmail.com
or call 315.539.8302. A complete calendar of events is available at
waterloony.com/
,
fingerlakescentral.com/
or at Seneca County on Facebook.
Contact:
Carol Fingar (315) 568-6894
cfingar@senecachamber.org