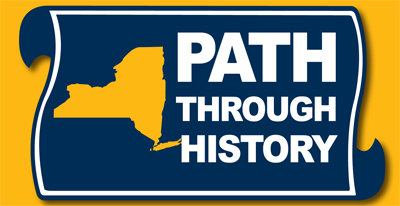 Visit the Homes of U.S. Presidents Where You Might "Meet" Theodore Roosevelt, Tour FDR's Estate with "his" Secret Service Agent and Attend a Colonial Tea
Albany, N.Y. (February 14, 2014)
- Which state had the most governors (four) go on to become president? Which state was home to the longest serving and the youngest presidents of the United States? And in which state was George Washington inaugurated as the nation's first president? If you said, New York, you'd be correct! These are just a few of the fascinating presidential facts that visitors to the state learn as they explore its ties to the U.S. Presidency in museums, national parks and historic sites. And what better time to begin exploring or planning an inspirational presidents-themed trip than Presidents' Day! The new "Path Through History" program, introduced by Governor Andrew M. Cuomo in August 2012, makes it easy to explore New York's Presidential heritage sites. Highlighting the state's connection to U.S. presidents is one of 13 themes used to organize 200-plus heritage sites across the state. The program includes identifying markers on major state highways as well as additional local signage with a distinctive Path Through History logo to help point the way. A web page on
http://iloveny.com/Winter/Themes/Path-Through-History.aspx
or
http://paththroughhistory.ny.gov
 provides a list of sites along with information about each one. Most people are surprised to learn that the nation's first president, George Washington, took his oath of office in New York City's
Federal Hall
, which served as the nation's capital from 1789 to 1790. New York was also home to the nation's 8
th
President, Martin Van Buren, who took office in 1837.  Lindenwald, his Hudson Valley estate, now the
Martin Van Buren National Historic Site
, offers insights into Van Buren's life and legacy, and the complex issues leading to the Civil War. Less than a generation later, Millard Fillmore, who had served as Governor of New York, took the reins as the fledgling nation's 13
th
President from 1850 to 1853. At the
Millard Fillmore House Museum
in East Aurora, (near Buffalo), visitors learn of his rise from son of a poor Finger Lakes farmer to President. Another president with strong ties to New York was Ulysses S. Grant, America's popular 18
th
President, serving from 1868 to 1877. At
Grant Cottage State Historic Site
in Saratoga Springs, visitors see where he spent his last weeks writing his memoirs; and at
General Grant National Memorial
in New York City, park ranger talks and exhibits bring his leadership to life. A plaque marks the
Chester A. Arthur House
the place the 21
st
President and champion of civil service reform called home, while a painting and bio in the
New York Hall of Governors
honors former New York Governor Grover Cleveland, the only president to serve non-consecutive terms as 22
nd
and 24
th
President (1885-89 and 1893-97). Funds are also being raised for a Grover Cleveland Presidential Library and Museum in Buffalo. Among the most popular presidential sites are those related to cousins Theodore and Franklin Delano Roosevelt, both of whom served as New York governors before becoming 26
th
and 32
nd
presidents, respectively. Theodore Roosevelt sites dot the state, including
Sagamore Hill National Historic Site
, his Long Island home in Oyster Bay; the
Theodore Roosevelt Birthplace National Historic Site
, his childhood home in Manhattan; the
Theodore Roosevelt Inaugural National Historic Site
in Buffalo, where he was sworn in upon the death of President William McKinley; and the
North Creek Depot Museum
, which dramatizes the story of his midnight train ride to the presidency. Fans of Franklin Delano Roosevelt, the nation's longest serving president, and his first lady Eleanor can find almost everything they want to know in Hyde Park at the
Home of Franklin D. Roosevelt National Historic Site
. Here, visitors can tour Springwood, FDR's lifelong home, Top Cottage, his presidential retreat, the Presidential Library and Museum and Val-Kill, Eleanor's own cottage. This month, experience some of New York's rich presidential legacy. You'll also want to include these fascinating sites in your travels throughout the year. Here is a region-by-region look at the Empire State's key presidential heritage sites included in the Path Through History program:
THE ADIRONDACKS
Meet America's Youngest President.
Theodore Roosevelt, then vice president, was at North Creek Depot returning from a hiking vacation when he learned that President McKinley had died and he was to become the 26th President of the United States. During the annual Teddy Days, (September 13 and 14, 2014), "Theodore Roosevelt"-in full period attire-shares the story of how he traveled from this very station to Buffalo to be sworn in as the youngest president ever to serve. The 19
th
century station, restored as the
North Creek Depot Museum
in North Creek, is open from April through October.
www.northcreekdepotmuseum.com
CAPITAL-SARATOGA
From Governor to President.
Four New York State governors went on to become presidents of the United States: Martin Van Buren, Grover Cleveland, Theodore Roosevelt and Franklin Delano Roosevelt. Their portraits, along with all those who have served as Governor, are displayed in chronological order in the
Hall of Governors
in the New York State Capitol in Albany. A renovation, unveiled in 2012, added biographies of each governor and a timeline along the walls of the Hall to provide historical context. A smart phone walking tour includes highlights from speeches and writings of the former governors. The State Capitol, a National Historic Landmark, is also known for its impressive 19
th
century architecture and intricately carved stonework.
http://www.hallofgovernors.ny.gov/
Guarded an angel.
The impressive crypt of Chester A. Arthur, 21
st
President of the United States, is watched over by a large angel of sorrow at the Albany Rural Cemetery. The park-like cemetery also contains the gravesites of five governors, three members of the Continental Congress and many other historic figures. Self-guided "Notables" and occasional volunteer-guided tours are available. Phone: 518-463-7017.
A 19th century pilgrimage site.
Civil War veterans once flocked to pay their respects at the Adirondack cottage where Civil War general and president Ulysses S. Grant spent his final weeks writing his memoirs. Today, the
Ulysses S. Grant Cottage State Historic Site
in Wilton looks almost as it did during Grant's six-week stay in 1885. Visitors see the home with its original furnishings and personal items and also view a short film and additional exhibits at the visitor's center. The site is open from Memorial Day weekend through Columbus Day and by appointment.
www.grantcottage.org
FINGER LAKES
One of Lincoln's "team of rivals".
After being defeated by Abraham Lincoln in his run for president, former New York Governor and U.S. Senator William Henry Seward served Lincoln, and then President Andrew Johnson, as Secretary of State. His restored Auburn home, now the
Seward House Museum and a National Historic Landmark
, features original furnishings, memorabilia, photographs and art reflecting his nearly 40-year political career. Fans of the Steven Spielberg film,
Lincoln
, will enjoy learning about Lincoln and Seward's personal friendship. The museum is open for guided tours from March through December and by appointment for groups. 
www.sewardhouse.org
GREATER NIAGARA
Built with his own hands.
In 1826, Millard Fillmore, then a country lawyer, built his own modest clapboard home in East Aurora. From that home, he launched a political career that led to his becoming the 13
th
President of the United States. Now a National Historic Landmark, the
Millard Fillmore House Museum
features personal and period furnishings. Don't miss the carriage barn and rose garden with pre-1840 varieties. The museum is open June through October.   
www.aurorahistoricalsociety.com
Taking the oath of office in Buffalo.
When President McKinley died in 1901, Theodore Roosevelt, who had been vacationing in upstate New York, took the oath of office at the Buffalo home of fellow conservationist and reformer, Ansley Wilcox. Today, the room where he was inaugurated looks much as it did on that day. The restored rooms as well as interactive exhibits and an audio-visual presentation help bring those times and his presidency to life at the
Theodore Roosevelt Inaugural National Historic Site
. 
www.trsite.org
HUDSON VALLEY
A lifelong home
. It's hard not to be fascinated by President Franklin Delano Roosevelt-especially after a visit to "Springwood" his lifelong home in Hyde Park, preserved as the
Franklin D. Roosevelt Home National Historic Site.
 Watch the film at the visitor center and then join a one-hour National Park Ranger-led tour of his home. Visitors can also tour his Top Cottage retreat and walk the extensive grounds. Open year-round, the park also offers special tours led by costumed interpreters who provide insights into history from the viewpoint of FDR's butler, cook, maid or secret service agents. The neighboring
Franklin D. Roosevelt Library and Museum
has a new immersive exhibit, and fans of First Lady Eleanor Roosevelt will want to visit her nearby cottage,
Val-Kill
.
www.nps.gov/hofr
Back to the farm.
After his term as the 8th president of the United States, Martin Van Buren, who had also served as Governor of New York, Senator and Secretary of State, created Lindenwald, a 220-acre farm and estate, in his childhood hometown of Kinderhook. Based here, Van Buren ran for the presidency twice more, hoping to head off a civil war through compromise, but failed. Today the
Martin Van Buren
National Historic Site
, restored to its 19
th
century grandeur, offers insights into his presidency, including the economic depression that helped thwart his bid for a second term.
http://www.nps.gov/nr/travel/presidents/van_buren_lindenwald.html
LONG ISLAND
A presidential retreat.
Known as the "Summer White House" during President Theodore Roosevelt's years as president,
Sagamore Hill National Historic Site
in Oyster Bay, was TR's home from 1885 until his death in 1919. The 83-acre site features his 1885 Queen Anne shingle-style home, now under reconstruction, and a visitor center and museum with fascinating movie clips and exhibits that tell the story of this colorful "Rough Rider" president's passions, from conservation and principled government to travel abroad. The site also includes a nature trail and wildlife refuge with meadows, woodlands, salt marsh and beach.
www.nps.gov/sahi
NEW YORK CITY
The nation's first capital.
 George Washington took the oath of office as first President of the United States in
Federal Hall
in what is now Manhattan's Financial District. The site, now a National Memorial, also served as the home to the first Congress, Supreme Court and Executive branch offices. Today, it is a museum, commemorating its role as the birthplace of American government with exhibitions and National Park Ranger-led tours and special events with costumed period re-enactors.
www.nps.gov/feha
Born in the Big Apple.
Only one U.S. president was born in New York City and the
Theodore Roosevelt Birthplace National Historic Site
in the Chelsea neighborhood of Manhattan recreates his childhood home on the original site. The townhouse features an introductory film, guided tours of period rooms furnished with many items owned by the Roosevelt family and exhibit galleries (currently closed for renovations).
www.nps.gov/thrb
The largest mausolem in North America.  
The
General Grant National Memorial
in Harlem, better known as "Grant's Tomb," is the final resting place of President Ulysses Simpson Grant and his wife, Julia, and the largest mausoleum in North America. Through the visitor center exhibits, tourists learn about how Grant, then Commanding General of the Union Army, ended the bloodiest conflict in American history and then worked as president to heal the nation and make civil rights for all citizens a reality.
www.nps.gov/gegr
George Washington dined here.
Perched on a hilltop, the
Morris-Jumel Mansion
in Washington Heights is the oldest house in Manhattan. It served as George Washington's headquarters during the Battle of Harlem Heights during the Revolutionary War, and hosted a dinner with George Washington and his cabinet, including Alexander Hamilton, John Adams and Thomas Jefferson, in 1790. Now a year-round museum, the mansion features restored period rooms furnished in the colonial, Federalist and Empire styles and fun family events such as Colonial and Victorian teas, art exhibits and workshops.
www.morrisjumel.org
THOUSAND ISLANDS-SEAWAY
FDR'S safe haven.
From August 1944 to February 1946, Fort Ontario in Oswego served as the only shelter for Nazi Holocaust survivors in the United States. Open year-round, the Safe Haven Museum and Education Center tells the stories of the nearly 1,000 European World War II refugees-many concentration camp escapees-brought here as guests of President Franklin D. Roosevelt. Visitors can hear individual stories and learn what it was like to live in this humane but military-run refugee camp.
www.safehavenmuseum.com
AND MORE:
To learn more about the lives and legacies of the New York's presidents and other historic sites, visit
www.paththroughhistory.ny.gov
and for other vacation ideas, visit
www.iloveny.com
. ###
About Path Through History
Path Through History highlights historically and culturally significant sites and events throughout New York State. The program, introduced by Governor Andrew M. Cuomo, builds on New York's already robust heritage tourism attractions. The initiative is currently focused on 13 themes including: Arts & Culture, Natural History, U.S. Presidents, Women's Rights, Canals & Transportation, Civil Rights, Colonial History, Immigration, Innovation & Commerce, The Revolutionary War, Native American Heritage, Sports History and the War of 1812. Important heritage sites and events across the state were selected with input from leading historians. For more information, visit
www.iloveny.com/paththroughhistory
.
About New York State
New York State features 11 beautiful vacation regions. New York's attractions span from landmarks such as Niagara Falls to the wine trails of Hudson Valley and treasures like the Baseball Hall of Fame in Cooperstown. Whether it's wide-ranging outdoor activities for the whole family like snowmobiling, skiing and snowboarding, hiking, culinary wonders and farm-to-table fresh foods, or the rich history and culture of one of the 13 original colonies, New York State offers diverse activities for all travelers. For more information, visit
http://iloveny.com
. Media can find press releases and more at
thebeat.iloveny.com
. Follow I LOVE NEW YORK's social media channels for news on tourism in New York State. From NYC to Niagara Falls and all points in between, there's so much to love to LOVE in NY! Check out I LOVE NEW YORK on Facebook, Twitter and Instagram for great ideas for your next getaway.
Follow I LOVE NEW YORK on social media:
Facebook
: Facebook.com/ILOVENY
Twitter:
@I_LOVE_NY
Instagram:
ILOVENY
YouTube:
YouTube.com/OfficialILoveNY
Pinterest:
Pinterest.com/ILOVENY
Flickr:
Flickr.com/OfficialILoveNY
CONTACT:
Melanie Klausner M. SILVER - A Division of Finn Partners (646) 307-6310
Melanie.klausner@finnpartners.com
Eric Scheffel Empire State Development (518) 292-5274
escheffel@esd.ny.gov