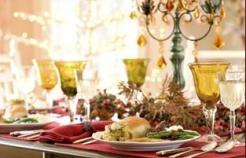 Hudson Valley, N.Y.
- Thanksgiving is just around the corner. Why not take advantage of the wonderful holiday dinners offered by Vintage Hudson Valley's award-winning chefs? Host your family feast at one of our member restaurants, and relax! This year, enjoy a spectacular holiday meal, and spend quality time with family and friends at the same time.           
The Iron Horse Grill
20 Wheeler Avenue in Pleasantville The Iron Horse Grill, one of VHV's newest member restaurants, presents its 12th Annual Thanksgiving Day Feast, beginning at 3:00 pm on Thursday, November 25. The Iron Hourse will serve all-natural, traditional turkey, as well as other updated holiday classics. The staff at the Iron Horse look forward to spending their holiday with you and your family. View the menu here. Visit www.ironhorsegrill.com or call 914-741-0717.
Red Hat on the River
One Bridge Street in Irvington-on-Hudson Join the Red Hat for Thanksgiving dinner. Entrées include New England Organic Heritage Turkey with sausage, dried fruit & pinenut stuffing, haricots verts, smashed sweet potatoes, cranberry sauce, and traditional gravy. $65 prix fixe / $30 children 12 & under, plus local tax & gratuity. View the menu here. Visit www.vintagehudsonvalley.com/redhat_dining.shtml or call 914-591-5888 for reservations.
The Rhinecliff Hotel
4 Grinnell Street in Rhinecliff Enjoy a scrumptious four-course lunch with family and friends at The Rhinecliff, a restored 1854 hotel on the majestic Hudson. Executive Chef Brian Kaywork starts you off with a delicious apple salad, then enjoy traditional turkey two ways, and end the meal with pumpkin pie. Open for Thanksgiving Day lunch from noon - 5pm. Adults $42.95, $19.95 for kids 6-12. Click here to view the menu. (Come out the night before for the Thanksgiving Homecoming Celebration Party. The CrawDaddys will play rockin' blues, Wednesday from 8:30 pm to late; $5 charge.) Visit www.vintagehudsonvalley.com/rhinecliff_dining.shtml, or call 845-876-0590 for reservations.
Equus at Castle on the Hudson
400 Benedict Avenue in Tarrytown Relax and enjoy a 4-course Thanksgiving dinner featuring the local harvest, at award-winning Equus at Castle on the Hudson. $85 per person, noon - 7:00 pm on Thursday, November 25. View the menu here. Visit www.vintagehudsonvalley.com/castle_dining.shtml or call 914-631-3646 for reservations.
River City Grille
6 South Broadway in Irvington Let River City Grille take care of making Thanksgiving dinner for you! They will be preparing complete traditional Thanksgiving meals for take home. Each package will accommodate 12-15 people and includes a Bell & Evans turkey plus all the trimmings, right down to the dessert. The cost is $325.00 plus tax. Pick up between 10 am & noon on Thanksgiving Day. Visit www.vintagehudsonvalley.com/rivercity_dining.shtml. To order, call 914-591-2033.
Now Available:
The 2011 Vintage Hudson Valley Value Card Just $25, the VHV Value Card gives you 10% off award-winning Hudson Valley restaurants and inns, from now through the end of next year! Visit
http://vintagehudsonvalley.com/gift.shtml
to find out more and purchase your card. It makes a wonderful holiday gift!          To find out more about Vintage Hudson Valley inns, restaurants, golf, weddings and more, visit VintageHudsonValley.com.
###