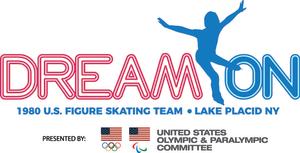 Dinner and Show Tickets on Sale Now
Lake Placid, N.Y. – There have been few, if any other Olympic Winter Games that have rivaled the enduring legacy of Lake Placid and 1980. So many moments are forever etched into our memories and on Tuesday, Feb. 18, many of those memories and perhaps new ones will be celebrated during the Dream On, The 1980 Lake Placid Olympic Figure Skating Reunion Gala. Presented by the United States Olympic and Paralympic Committee (USOPC) the unforgettable evening begins at 7 p.m., with a special dinner, followed by the show at 8 p.m., in the Olympic Center.
"What better way to celebrate this Olympic team than with a reunion and community celebration, punctuated with performances by national champions in pair's, ice dance and men's skating," said Paul Wylie, a 1992 men's figure skating Olympic silver medalist. 
The 1980 U.S. Olympic figure skating team dazzled the crowd and competition judges en route to Charles Tickner's bronze medal in men's figure skating and Linda Fratianne's Olympic women's singles silver medal. And who can forget Scott Hamilton carrying the United States' flag and leading Team USA into the Opening Ceremony?
"Few events have captured the attention and imagination of Americans, nor left a legacy as rich, as the 1980 Olympic Winter Games in Lake Placid, New York, and it's only appropriate the anniversary is marked accordingly," said Sarah Hirshland, USOPC CEO. " We look forward to the planned events and the great opportunity to celebrate both the athletes who competed and the community that played the important role of welcoming the world."
Hamilton, Fratianne and Tickner are just three members of the famed skating team to return to Lake Placid to be a part of the special 40th anniversary celebration of the XIII Olympic Winter Games. Others returning to the two-time Olympic village to re-live their memories of 40 years ago include Tai Babilonia, David Santee, Sandy Lenz Jackson, Caitlin Carruthers Conrad and Peter Carruthers, Sheryl Franks and Michael Botticelli, Lisa-Marie Allen and Stacey Smith, and John Summers. Former U.S. figure skating president, Hugh Graham, coach Frank Carroll and U.S. team leaders, Claire Ferguson and Paul George will also be a part of the celebration.
The 8 p.m. show is set to begin with the 20-member Northern Lights Ensemble, directed by Helen Demong, mother of Bill Demong, the 2010 Nordic Combined Olympic champion, performing the National Anthem. Forty area skaters will take part in a group performance to the Olympic Fanfare, while many of the region's youngest ones, ranging in ages from 3-6, will skate to In Summer, from the Disney movie "Frozen."
Madison Chock and Evan Bates will also make their first public performance since winning the ice dance gold medal at the prestigious ISU Four-Continent Championship in Seoul, South Korea. The two will grace the Olympic Center ice with their free dance "Snake Charmer," which has more than 1.2-million views on Youtube.
Others skaters in the Tuesday evening gala lineup include current U.S. pair champions Ashley Cain-Gribble and Timothy Leduc, along with U.S. champion Ryan Bradley.  Guests can also expect a multi-media presentation and discussion with the members of the famed 1980 team, hosted by Wylie, who will also take to the ice with two-time Olympian Karen Courtland-Kelly,
"In a very special and intimate setting, we will be looking back at each of the four major events of the competition," added Wylie. "We will be celebrating the personalities that lit up the 1980 Olympic Center and launched the entertainment we now know as figure skating."
On-ice Gala Dinner Tickets remain available for $980 per table or $125 per person. Corporate sponsorship tables are also available. Call 518-302-5397.
General Admission Tickets for the  "Dream On" skating show can still be purchased for just $19.80 and are available at Tickets.com, by phone at 518-523-3330 and at the Olympic Center Box Office.
MEDIA ADVISORY: Members of the 1980 U.S. Olympic figure skating team to include, Scott Hamilton, Charles Tickner, Linda Fratianne, Tai Babilonia, David Santee, Sandy Lenz Jackson, Caitlin Carruthers Conrad and Peter Carruthers, Sheryl Franks, Michael Botticelli, Lisa-Marie Allen, Stacey Smith, and John Summers will participate in a 10 a.m. press conference, Tuesday, Feb. 18, to share their memories of the Lake Placid Olympic Winter Games and promote Tuesday's Sk8 to Elimin8 and that evening's Dream On, The 1980 Lake Placid Olympic Figure Skating Reunion Gala. The press event will be held in the Conference Center at Lake Placid's Edelweiss Room. Media planning on attending, contact Jon Lundin, ORDA's director of communications, Email: JLundin@orda.org, Mobile: 518-637-6885 for credentials.
###
Established in 1982, the New York State Olympic Regional Development Authority (ORDA) was created by the State of New York to manage the facilities used during the 1980 Olympic Winter Games at Lake Placid. ORDA operates Whiteface, Belleayre and Gore Mountain ski areas; the Olympic Sports Complex at Mt. Van Hoevenberg; the Olympic speed skating oval, Olympic jumping complex and Olympic arena. As host to international and national championships, the Authority has brought millions of athletes, spectator and participants to the region, resulting in significant economic development.
Contact:
Jon Lundin
JLundin@orda.org | (518) 523-1655