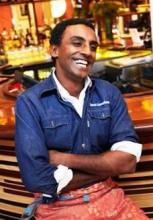 Italian Trade Commission Returns as Presenting Partner of Epicurean Weekend
Saratoga Springs, N.Y.
- Marcus Samuelsson, internationally acclaimed chef/owner of Red Rooster Harlem, best-selling author and restaurateur, and award-winning fashion designer Adrienne Vittadini will serve as Honorary Chairs for the 2011
Saratoga Wine & Food and Fall Ferrari Festival
, September 9, 10 & 11 in Saratoga Springs, NY. The Italian Trade Commission returns as presenting partner of the festival, a fundraiser to support world-class cultural programming at Saratoga Performing Arts Center (SPAC) and the Saratoga Automobile Museum. The three-day festival encompasses several unique tasting and lifestyle events including the main attraction, the Grand Tasting and Concours d'Italia - an extravaganza of fine wines, artisan food and luxury Italian automobiles. "We are thrilled to welcome to our festival, Marcus Samuelsson and Adrienne Vittadini, two extraordinary talents whose achievements in the worlds of food and fashion are synonymous with quality and excellence," said Marcia J. White, President and Executive Director of Saratoga Performing Arts Center. "We are also delighted to welcome back the Italian Trade Commission as our presenting partner. Their participation has taken this event to new heights and created wonderful opportunities for guests to sample and savor the authentic flavors of Italy."
CHEF MARCUS SAMUELSSON
Marcus Samuelsson caught the attention of the culinary world at the early age of 24, at Aquavit where he received consecutive four-star ratings in Forbes and two impressive three-star ratings from the
New York Times
, the youngest person ever to receive such an accolade.  The author of several award-winning cookbooks and frequent guest on
The Today Show
,
the Martha Stewart Show
,
The Inner Chef
on Discovery Network and
Iron Chef
, Chef Samuelsson's new Harlem restaurant, the Red Rooster, opened in January to rave reviews. He served as Guest Chef for President Obama's First State Department dinner and recently joined the First Lady to announce the USDA's new MyPlate nutritional initiative aimed at encouraging Americans to eat healthier. "I relish the opportunity to share my passion for great food with festival guests and look forward to bringing a taste of Harlem to beautiful Saratoga.  Living a quality life starts with the food we create in the kitchen and put on the table each day to enjoy with our families and friends.  Spending quality time with loved ones and sharing a healthy meal motivates me as a chef and is a message that I try to convey as often as possible. As part of the festival, I look forward to offering my insights on how to achieve that, while celebrating with festival guests, the outstanding wines, food and events taking place throughout the weekend," said Marcus Samuelsson. Among the events Chef Samuelsson will participate in are Friday's "Live on Stage" Gala and Saturday's Grand Tasting, which will include a book-signing for his latest cookbook, the
New American Table
, a tribute to regional culinary traditions and recipes that have shaped modern American cuisine.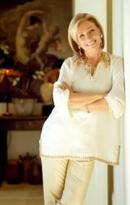 DESIGNER ADRIENNE VITTADINI
Also featured at the festival will be award-winning fashion designer Adrienne Vittadini whose signature knitwear designs transformed women's fashion and launched her brand to the top of the apparel industry. In her collections, she balanced her love of European elegance in design with American practicality and ease. "Excellence in design propelled Adrienne Vittadini to the top of the fashion world - a position she held for more than three decades. Her elegant career-to-casual designs pioneered a new style for the modern woman and for the industry by using textiles as the defining element in design," said White.
THE ITALIAN TRADE COMMISSION
The presenting sponsor of the festival for an unprecedented third year, the Italian Trade Commission (ITC) will host an Italian Pavilion at the Grand Tasting featuring exquisite Italian wines and spirits, authentic Italian gourmet items as well as delicacies prepared by the region's top chefs. Many of these signature products will be featured on the menus of events taking place throughout the weekend, including the Live on Stage Gala, seminars and Sunday brunch.
GRAND TASTING & CONCOURS D'ITALIA
Honorary Co-Chairs for the festival also include
Andrea Zagato
, third-generation director of the world-famous Carrozzerie Zagato and master wine connoisseur
Kevin Zraly
, winner of the James Beard Lifetime Achievement Award.  All of the Honorary Chairs will participate in festival events throughout the weekend, including the centerpiece of the festival, the Grand Tasting and Concours d'Italia on Saturday, September 10. Under a large, elegant tent, guests can sample exquisite international wines, savor delicacies prepared by the region's top chefs, participate in seminars and bid on rare wines, travel, dining and other luxuries at extensive silent and live auctions. An invitation-only judged concours on the SPAC lawns for selected Ferrari, Alfa Romeo, Lancia, Maserati Lamborghini and Fiat-Abarth automobiles will also be a highlight of Saturday's festival events. Dr. Andrea Zagato, scion of the legendary Zagato atelier will host the event, and a related discussion on
Ferrari: Living the Legend
, together with Luigi Chinetti, Jr. and other Ferrari authorities.
HIGHLIGHTS
Details available at
http://www.spac.org/
FRI, SEPT 9
Adirondack Road Tour
Ferrari, Alfa Romeo, Lancia, Maserati, Lamborghini and Fiat-Abarth automobiles will follow a 1 ½ hour route through the Adirondacks and Lake George area. Guests will have lunch at the historic Lake George Club and enjoy speedboat rides.
Live on Stage Gala/Serata Italiana
A lavish dinner of fine wines, gourmet cuisine, entertainment, auctions and more enjoyed on the stage where the world's finest artists and legends have performed.
SAT, SEPT 10
Grand Tasting and Concours d'Italia
Under elegant tents on SPAC's lush lawns, hundreds of fine vintages and culinary creations are enjoyed. Also features events with Marcus Samuelsson and Adrienne Vittadini...an Italian Pavilion... seminars by wine masters Kevin Zraly and Joe Campanale...auctions of luxury items... an invitation-only concours of Ferrari, Alfa Romeo and other Italian luxury autos.
Live Auction of Luxuries presented by Chubb
Open to all Grand Tasting ticket holders, the Live Auction, hosted by Kevin Zraly features exotic travel packages, custom jewelry, rare wines, SPAC tickets, original artwork, automobilia and more. Prosecco and Italian desserts served.
After Party Aperitivo, South Portico, Hall of Springs
A stylish lounge party offering savory food, spirits and live music.
SUN, SEPT 11
Italian Sparkling Jazz Brunch
The timeless elegance of Saratoga National Golf Course is the setting for a gourmet brunch with live jazz.
### 
Contact
: Shane Williams-Ness, 518.584.9330 x 116 M:518.378.0295
shane@spac.org
  Lisa Hill, 518.584.9330 x 119 M:518.496.2882
lhill@spac.org
;
http://www.spac.org/