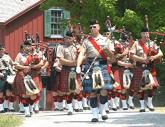 Mumford, N.Y.
- The lively music of Scotland and Ireland will fill the air when the Genesee Country Village & Museum plays host to its Celtic Faire on Saturday, June 28.
With the flying feet of Irish dancers and others performing to the traditional music of Scotland and Ireland, it will be a day of pure joy for lovers of all things Celtic.
Among the performing groups will be:
The Rochester Scottish Pipes and Drums
The MGOS Academy of Irish Dance
The Niagara Regional Police Pipe Band
The McMahon School of Irish Dance
An array of authentic food and drinks, specialty vendors and a variety of Celtic-focused activities in the Historic Village fill out the day.
For further information, visit www.gcv.org or call (585) 538-6822.
GCVM is the largest living history museum in New York State with the largest collection of historic buildings in the Northeast. The museum, with its John L. Wehle Gallery and Genesee Country Nature Center, is open May -Oct., and located in Mumford, N.Y., 20 miles southwest of Rochester and 45 miles east of Buffalo.
Photo: Rochester Scottish Pipes & Drums
Contact:
Judy Markham
(585) 538-6822
jmarkham@gcv.org