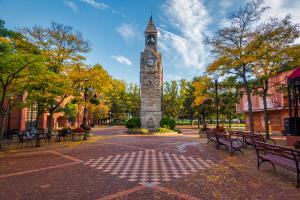 Corning, NY – Corning's Centerway Square has been nominated for "Best Public Square" in the country by a panel of experts for USA Today's 10Best Readers' Choice travel awards for 2023. The nomination is just the beginning, however, as the public ultimately gets to decide the winner. Voting begins on Monday, January 9th, 2023 at 12pm Eastern and runs through February 6th at 11:59am EST. The public may vote once per day. After four weeks of voting, the top vote-getters will be announced.
Town squares are much more than quaint spots in the center of town adorned with cobblestone pathways, benches for chatting, and a stage for celebrations. Located, metaphorically and often literally, in the heart of town, these gathering places have historically been sites for markets, political rallies, fellowship, as well as entertainment and music. Around them, you will often find thriving shops and restaurants. And emanating from them, you can often feel the very pulse of the community. In Corning, these traits are exemplified by Centerway Square.
"We're asking local residents and people who love Corning to take a moment each day over the next few weeks and vote," says Dave DeGolyer, Communications Director for Explore Steuben. "This is more than a sense of community pride. It's also a testament to a way of life where people from different cultures and backgrounds are encouraged to get together, interact, share similar experiences, and feel like they are part of something special."
This isn't the first honor for the square. In April 2013, Corning's Centerway Square was named one of the 15 Most Beautiful Town Squares in America by Travel + Leisure. That beauty is only part of the appeal, though. Corning's Gaffer District—named after a gaffer or master glassblower—is home to over 100 boutique shops, art galleries, studios, as well as craft beverage producers, restaurants serving fabulous food, and two world-class museums.
To vote for Corning's Centerway Square, visit https://www.10best.com/awards/travel/best-public-square/centerway-square-corning-new-york/.
*photos available upon request
You can learn more about Corning at www.ExploreSteuben.com and www.GafferDistrict.com.
Photo: Corning Centerway Square Spring courtesy Brian Maloney
###
Explore Steuben (aka Steuben County Conference & Visitors Bureau) was established in 1994. As Steuben County's official tourism marketing agency, the CVB's mission is to stimulate the tourism economy through authentic storytelling, supporting & developing destination amenities, and connecting visitors to Steuben County and the Southern Finger Lakes.
Contact:           Dave DeGolyer, Communications Director
                        Explore Steuben
                        1 W. Market Street, Suite 201
                        Corning, NY 14830
                        607-426-5371 (cell)
                        ddegolyer@corningfingerlakes.com