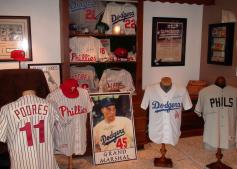 Moriah, N.Y.
- The Town of Moriah will celebrate two of its hometown champs with a combined celebration of the annual Champ Day and the first annual Johnny Podres Day on August 6, 2011 from 10:00 a.m. to 4:00 p.m. The annual Champ Day will fill Main Street Port Henry with food and craft vendors, a town-wide lawn sale, music and more to honor the famed Lake Champlain monster who is rumored to make Port Henry his home.  This year marks the addition of the first annual Johnny Podres Day. Johnny Podres, the son of an iron miner from Witherbee in the Adirondacks, is best remembered for pitching a shutout for the Brooklyn Dodgers in game seven of the 1955 World Series against the New York Yankees. An extensive collection of memorabilia will be on display and open to the public at the Lee House on Main Street throughout the day.  The collection, which belongs to brothers Pat  Jr. and Tim Salerno, includes trading cards, books, hats, coins, stamps, postcards, photos, pins, and game-worn, all star and coaching jerseys that represent Podres' long major league baseball career. "Our father, Pat Salerno, Senior, played baseball for the Port Henry high school, and Johnny played on the Witherbee high school team," said Tim Salerno. "At the time, the two were rivals, just like Moriah and Ticonderoga are now." "They were both signed by the same Dodgers scout right out of high school in 1951," Pat Salerno, Jr. added. "Our father played on several minor league teams for the Dodgers, and Johnny broke into the majors in 1953." Podres went on to pitch 15 years in the majors, remaining with the Dodgers through 1965, and compiled a 148-116 record with a career 3.68 ERA. In 1957, he led the National League with a 2.66 ERA and six shutouts, and his best season was 1961 when he was 18-5. In four World Series with the Dodgers, Podres was 4-1 with a 2.11 ERA. From the 1970's through 1996, he was a pitching coach for the Minnesota Twins, the LA Dodgers, and made it back to the World Series in 1993 as a pitching coach for the Phillies. "We appreciate everything he did for the game - he was a huge superstar in the baseball world, especially in Brooklyn," said Tim Salerno. "But here in Moriah he was also a great friend and neighbor." Contact the Lake Champlain Visitors Center with questions at 518.597.4649 or
suzanne@lakechamplainregion.com
. 
###
Photo
: An extensive collection of baseball memorabilia will be on display for Johnny Podres Day in Moriah.
Contact
: Kimberly Rielly, director of communications Lake Placid CVB /  Regional Office of Sustainable Tourism Lake Placid, Adirondacks USA 518.637.6559    Twitter: @krielly