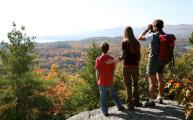 Westport, N.Y. - 
New York's central Champlain Valley is special. "There are few places with historic hamlets settled so sweetly into a rich landscape of forests, farms, and hills with views of a beautiful lake and mountains," notes Chris Maron, executive director of Champlain Area Trails (CATS).   To spread the word and promote tourism to the area, CATS has launched its first travel writing contest. Winners will receive prizes ranging from $250 to $500, and have their entries published online in the CATS Destination Guide. "A travel writing contest is a fun way to attract attention, invite new visitors, and encourage authors to write about this special place," Maron says.  "We want to strengthen the area's economic vitality by attracting visitors to enjoy the outdoors, walk around our villages, visit local farms and businesses, and come back with their friends."  The contest is a chance for people to share their favorite outdoor experiences in the central Champlain Valley-whether it's hiking, walking, skiing, snowshoeing, birding, paddling, picnicking, or a little bit of each. Entrants should also highlight cultural, culinary, or recreation adventures they enjoyed, businesses they visited, and people they met in the area. 
The deadline for entries is December 5, 2011
. Entrants may submit works in two categories: Print (800- to 1,200-word article with two to six photos) and Multimedia (video or Flash-based content between 3 and 5 minutes long). 
For full details, please visit http://www.champlainareastrails.com/contest.
Champlain Area Trails is a non-profit organization whose purpose is to develop hiking/skiing trails that link Champlain Valley communities, connect people to nature, promote economic vitality, and protect habitat and scenic vistas. It maintains more than 10 miles of trails in New York's central Champlain Valley. With connections to existing trails, CATS is halfway toward its immediate goal of a 30-mile trail loop between Westport and Essex. CATS will extend its trails to neighboring towns and eventually connect them to trails in the Adirondack Mountains, Vermont, and Quebec.  For more information, go to 
http://www.champlainareatrails.com/
 or call 518-962-CATS (2287).
###
PHOTO
: A family enjoys the view from atop Coon Mountain in Westport on Lake Champlain.
Contact
Chris Maron, Executive Director Champlain Area Trails 518.962.CATS