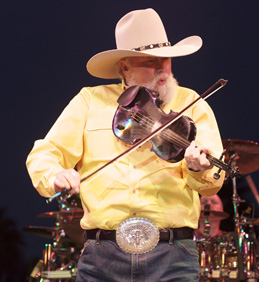 Highmount, N.Y.
- Southern rock icon and legendary fiddler Charlie Daniels brings his blistering live show to the Belleayre Music Festival stage on Saturday, July 24 at 8 p.m. for an evening of flat-out fun and old-fashioned rock jamming. Hard-charging anthems like "The Devil Went Down to Georgia" and "The South's Gonna Do It" are among the signature tunes that propelled the Grammy-winning band to international success and more than 20 million albums sold in a career that spans half-a-century. Those hits and many more will be rolled at Belleayre in an evening filled with fast-paced fiddling and sizzling guitar. Charlie's music blends rock, country, bluegrass, blues and Gospel that is quintessentially Southern and universally enjoyable. Charlie broke through as a record maker with 1973's "Honey In the Rock" and its hit hippie song "Uneasy Rider." His rebel anthems like "Long Haired Country Boy" shot his 1975 collection "Fire On the Mountain" to double-platinum status. The extraordinary chart success continued when "The Devil Went Down to Georgia," topped both country and pop charts in 1979 and won a Grammy Award. The song became an international phenomenon, earned three Country Music Association trophies, became a cornerstone of the "Urban Cowboy" movie soundtrack and propelled Charlie's "Million Mile Reflections" album to triple-platinum sales levels. Opening act, The Divas of Daytime TV are three Emmy-nominated soap opera stars and accomplished country music singers fronting their backup band.  Kassie DePavia (One Life to Live), Bobby Eakes (All My Children and The Bold and the Beautiful) and Kathy Brier (One Life to Live) combine to bring a great night of down-home music and comedy that promises good times and lots of laughs.
Coyote Lecture, July 24
This Saturday, July 24 at 5pm Belleayre Mountain will host a complimentary Interactive Nature Talk about coyotes by DEC Fish and Wildlife Biologist Tom Raffaldi at the Belleayre Beach Pavilion. Mr. Raffaldi, who has given a series of Nature Talks at Belleayre over the past several years, will talk about the management and current status of the Eastern coyote from Westchester to Woodstock. Come out to the Belleayre Beach for this free and interesting talk about a little understood much maligned member of the canine family.  People who are only participating in the lecture and arrive after 4:45 will have the $8 day-use area entry fee waved for this free event. Continued record heat not seen in over a decade has made this summer at the Belleayre Beach one of the busiest ever. Summer is in full swing in the Catskill Mountains and there's no better place to relax and chill out with a family picnic, swimming, boating, fishing, playing volleyball, horseshoes or beach games at Belleayre's well manicured day use area. Belleayre also offers Red Cross Certified Swim Lessons for all ages. The cost to enter the day use area is $8 per carload and $20 per bus; weekend hours are from 10am- 7:30pm and weekday hours are from 10am - 6pm.
Only One Week Left to Purchase Season Passes at Super Early Bird Prices
One way to beat the summer heat is by thinking about snow. For only one more week Belleayre Mountain will be selling season passes for the 2010-2011 skiing and riding season at the Super Early Bird prices. While season pass prices are going to remain the same price as last year and the usual early bird prices of $50 off are in effect through 11/30/2010, people who buy their Belleayre season passes this summer will reap additional rewards and added value perks. Early bird adult season passes are going to be selling for $676 but people who buy in July will get an additional 20% off the price. That's only $540 dollars for a full adult pass with no blackout dates. Junior passes are only $172, senior passes are $468, and college students who produce proof of enrollment with a letter from the school's bursar's office will only be $203 for a full season pass.  A midweek pass is only $220 in July and family packs are $511 per adult and only $132 per junior pass.  The Super Early Bird Special Pricing expires July 31. An added perk for people who purchase an adult or senior pass in August is a season long weekend workshop every Saturday beginning on January 1 with a $300 value. Midweek passholders will receive the Wednesday Workshop (also a $300 value) that lasts for the entire season starting on January 5.  People who choose to wait and buy their season pass in September also get a great deal. The September Belleayre Season Pass Deal includes five discounted guest passes that can be used at any time during the season. Bring your friends to introduce them to the Belleayre experience as a guest for only $34 per person which is an additional $100 value. Bring a friend and save even more. Current season pass holders who bring a new friend who buys a full adult season pass receive additional $50 off their price. Bring a senior season pass holder and receive $25 off or recruit a new family to the Belleayre experience and receive $100 off. Think snow and think savings.
Belleayre Mountain to Host All Terrain Mountain Bike Race on Sunday, August 8
Overlook Bikes from Woodstock, NY will sponsor and produce an All Terrain Mountain Bike Series hosted at Belleayre Mountain on Sunday, August 8. This Cross Country Mountain Bike Race which is part of the NYS Mountain Bike Series will be the first held at Belleayre Mountain in many years.  The Race will feature an interesting and challenging five mile undulating course of fire roads and single track between the Discovery and Overlook Lodges. Pro riders will have to complete four laps, expert riders three laps, sport riders two laps, and beginner riders one lap. The first 75 people to pre-register for the race receive a free t-shirt. Registration can be done online at
http://www.bikereg.com/
and more info about the race series can be found at
http://www.nysmtbseries.com/
.  Belleayre Mountain is a year-round outdoor recreation area in the Catskill Mountains operated by the New York State Department of Environmental Conservation. The Belleayre Music Festival is a non-profit 501c3 organization with a mission to bring arts and culture to the Catskill Region that operates in a partnership with Belleayre Mountain. 
###
Contact
: Jonathan King Belleayre Mountain Marketing Department Phone: 845-254-6114 Email:
jdking@gw.dec.state.ny.us
Web:
http://www.belleayre.com/
Belleayre Phone: 845-254-5600 Belleayre Beach: 845-254-5202