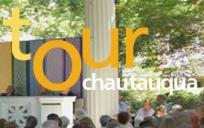 Dunkirk, N.Y.
 - The Chautauqua County Visitors Bureau (CCVB) has announced its new brand, logo, and website redesign focused around Chautauqua County - The World's Learning Center.  This new brand proclaims what visitors and residents have known for over a century; that Chautauqua County is a premier destination for leisure learning, as well as a hub for prominent writers, scientists, businessmen, politicians, and teachers of all disciplines to come and share their expertise and information in a relaxing vacation setting. The brand initiative is focused on the idea of learning vacations. Simply defined, learning vacations offer experiences, such as interactive tours, classes, or workshops that visitors can participate in within the timeframe of a week.  Some opportunities are a few hours, some might take a full day, and others might be a week long.  In any case, the visitor will end their vacation with newfound knowledge, as they will have experienced or learned something they did not know before their trip. The announcement of Chautauqua County's new World's Learning Center brand was presented at the SUNY Fredonia Technology Incubator and featured distinguished representatives from some of the County's key learning destinations.  During a brief program, Gregory J. Edwards, Chautauqua County executive; Mr. Thomas Becker, president of Chautauqua Institution; Dr. Dennis Hefner, president of SUNY Fredonia; Dr. Gregory DeCinque, president of Jamestown Community College; and Mr. Robert Swenson, president of Peek n' Peak Resort at Spa, all offered their endorsement of the brand.  "Our area attracts hundreds of thousands of visitors because it offers so many different kinds of things to see and do," said Chautauqua County Executive Edwards. "It has never been difficult to attract visitors to the lakes, the great attractions, events, and so much more. What is exciting now is the promise of so many of us working collaboratively to promote the area as Chautauqua County, NY-The World's Learning Center." Mr. Becker added, "As an Institution dedicated to lifelong learning for over 135 years, Chautauqua is very pleased to be a partner with the Chautauqua County Visitors Bureau's efforts to make Chautauqua County become The World's Learning Center."  Chautauqua County is located in the southwestern corner of New York State, a region of lakes, pastoral countryside and small communities. A primary draw to the County is the world-renowned Chautauqua Institution, which opened its gates and assembly grounds in 1874 on the belief that everyone "has a right to be all that he can be - to know all that he can know."  The Institution's annual nine-week summer program welcomes international speakers, artists, musicians, and experts in many fields to provide lectures, shows, and workshops in topics ranging from ethics in leadership and politics to cooking with local foods and photography. Chautauqua County is also home to the Roger Tory Peterson Institute of Natural History, the Robert H. Jackson Center for Justice, the Lucille Ball - Desi Arnaz Center and Celebration of New Comedy, the Lily Dale Assembly, and the Peek'n Peak Resort with Learning Academies for skiing, snowboarding, and golfing. The State University of New York campus at Fredonia and Jamestown Community College both offer credit and non-credit continuing education programs for personal development.  And, a soon-to-be completed Grape Discovery Center will provide learning opportunities around the grape industry and agricultural heritage of the largest grape growing region in the United States, outside of California.  CCVB's branding team chairman, Ben Webb, articulated the World's Learning Center as an all-inclusive brand that should be harnessed by all destinations and attractions in Chautauqua County.  Mr. Webb said, "Learning activities and experiences in Chautauqua County are not limited to museums, historic sites, and tours.  These type of attractions offer great educational value, but there are additional leisure learning experiences that visitors can tap into as well, such as creative hands-on programs and workshops, camp activities, nature trails, culinary excursions, and artistic ventures. There are learning opportunities to be found within all of our attractions, if we change how we view one another." The World's Learning Center branding initiative is an ongoing commitment and partnership of all agencies, businesses, foundations, and tourism attractions within Chautauqua County.  It is a community-wide initiative that relies on the support of business and civic leaders, as well as the tourism industry to experience the greatest level of success. CCVB Board President Don Anderson concluded, "The Chautauqua County Visitors Bureau is excited to collaborate with our local tourism, government, and business partners to bring awareness to every vacation-oriented learning opportunity available. By working together with the World's Learning Center as a primary focus, we can all do our part to develop Chautauqua County as a true learning destination." For a list of more than 45 leisure learning ideas or for more information about learning opportunities in Chautauqua County, see the "What to Learn" section of
http://www.tourchautauqua.com/
or call the Chautauqua County Visitors Bureau at 866-908-4569.
###
Contact
: Stephanie Burdo Communications Coordinator Chautauqua County Visitors Bureau PO Box 1441 Chautauqua, NY 14722 716-357-ILNY (4569)
http://www.tourchautauqua.com/
www.facebook.com/Tour.Chautauqua