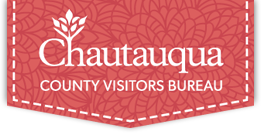 Chautauqua, NY – The Chautauqua County Visitors Bureau wants to know and share everyone's favorite Tour Chautauqua travel memories to spark conversation, create a connection with our online community, and inspire excitement for tourism seasons to come.
Unique experiences coupled with the unrivaled natural beauty of the Chautauqua-Lake Erie Region have sustained an active flow of summer vacationers since 1874, the year Chautauqua Institution was founded. Lily Dale Assembly, the world's largest center for Spiritualism, opened its gates just five years later, and Midway State Park began operations in 1898. Today's travelers experience many of these same attractions plus summer camps their great-great ancestors once attended!  
In recent years, Chautauqua County has seen the development of attractions that will continue to push the boundaries of time such as, the National Comedy Center, Lucille Ball-Desi Arnaz Museum, the Roger Tory Peterson Institute of Natural History, and more. 
Consider sharing your favorite Chautauqua memories with the Chautauqua County Visitors Bureau by using the hashtag, #TourChautauquaMoment. Perhaps they took place at attractions that serve as the foundation to our destination, such as Chautauqua Institution, Lily Dale Assembly, Midway State Park, or Panama Rocks Scenic Park. Of course, nothing predates our five amazing lakes: Lake Erie, Chautauqua Lake, Findley Lake, Cassadaga Lakes, and Bear Lake, and they draw families and groups of all sizes for a weekend or week of summer water fun like boating, fishing, and swimming, or just drinking coffee on the dock while watching the sunrise. Maybe your favorite #TourChautauquaMoment to-date took place at an event including, the Lucille Ball Comedy Festival, Gerry Rodeo, or Chautauqua Gran Fondo. The possibilities are endless! 
There are several ways to share your story. Consider making an Instagram or Facebook "story" or an Instagram or Facebook newsfeed post. You can also submit a memory directly to CCVB at TourChautauqua.com/moments. If sharing via social media, be sure the post privacy is set to public and that you use the hashtag #TourChautauquaMoment so we can see it. Here is what we want to know:
·         Your first name
·         Where are you from? i.e., Cleveland, Pittsburgh, Buffalo, etc.
·         How many times have you been to Chautauqua County?
·         What is your #TourChautauquaMoment? Either video or written format with at least one photo.
·         Why is the Chautauqua-Lake Erie Region a special place to you or your family?
·         When you plan to return and/or what you're looking forward to about your next visit?
Need Inspiration? Flip through the digital 2020 Chautauqua County Travel Guide to rediscover the wonderful ways to Play, Laugh, and Learn throughout the Chautauqua-Lake Erie Region.
Please note, by sharing a #TourChautauquaMoment, you give the Chautauqua County Visitors Bureau (CCVB) permission to post and promote your story and any submitted photos or video publicly on their website, consumer email newsletter, all social media channels, plus all forms of marketing and promotion CCVB participates in including but not limited to paid sponsored content, third party news and travel media, and more. CCVB also reserves the right to edit stories for clarity and length while upholding a commitment to preserving the essence and integrity of each memory. There is no guarantee a story will be featured, but please know CCVB is grateful and happy to read all contributions. For more information, please contact Megan Arnone: marnone@tourchautauqua.com
The Chautauqua County Visitors Bureau is the official New York State Tourism Promotion Agency for Chautauqua County. Utilizing both public and private funds, the Visitors Bureau promotes the region through a variety of programs targeted at drawing visitors into the area from surrounding states and communities. For more information, visit TourChautuaqua.com
###
Contact:
Megan L. Arnone
Chautauqua County Visitors Bureau
marnone@tourchautauqua.com
cell: 716-487-6393