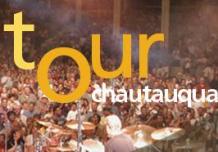 Chautauqua County, N.Y.
- This July and August, the Amphitheater at Chautauqua Institution hosts a number of great evening performances including: An Evening with Tom Chapin (July 7), Tim Conway & Friends (July 9), and Mark Russell (July 14).  On July 16, Olympic and World Figure Skating champion Kristi Yamaguchi joins
Ballroom with a Twist!
, a national tour featuring performers from "Dancing with the Stars" directed and choreographed by "Stars" pro, Louis van Amstel.  The Oak Ridge Boys grace the stage July 23 and Dion appears July 30.  August highlights include: An Evening with Clay Aiken and Ruben Studdard (August 6), and Neil Sedaka (August 27). Popular newcomers include Drake Bell (August 13) and Gretchen Wilson (August 20), while returning favorites feature Ken Burns (August 11), Loretta LaRoche (August 18) and Bob Newhart (August 28).  For a full schedule of performances and lectures, call 800-836-ARTS or visit
http://www.ciweb.org/
. Harvest in America's Grape County, the region encompassing Chautauqua and Lake Erie grapes and wine, officially kicks off August 14 with the America's Grape Country Wine Festival at the Chautauqua County Fairgrounds in Dunkirk.  For a list of festivals through November 1
st
, visit
http://www.americasgrapecountry.com/
. The Chautauqua County Visitors Bureau has inventoried over 45 classes and venues for leisure learning experiences.  All learning opportunities take place in less than a week's time with some available on an ongoing basis and some being annual or date specific.  For a list of learning suggestions including golf, sailing, writing, painting, brewing, fly-fishing, and more, visit
www.tourchautauqua.com/what_to_learn.aspx
. Below are more July and August event highlights happening throughout Chautauqua County.  For a comprehensive list of events, searchable by date, visit
http://www.tourchautauqua.com/
or call 866-908-4569.
July 2010
2-4       
Great Blue Heron Music Festival
, 2361 Wait Corners Rd., Sherman, NY 14781             Annual 3-day celebration of music and dance on 300 acres in the Amish countryside. National and regional acts perform with Roots, Rock, Zydeco, Blues, Old-time and Bluegrass bands.  Food, camping, swimming, and an all night dance tent.  716-487-1781,
http://www.greatblueheron.com/
.  2         
The Artie Shaw Orchestra
, 1891 Fredonia Opera House, 9-11 Church St, Fredonia, NY 14063             Artie Shaw put the "swing" in Swing and his Big Band now under music director Rich Chiaraluce's leadership still remains one of the swingingest outfits around. 716-679-1891,
http://www.fredopera.org/
. 9-10     
Antique Boat Show
, Village Park, Lakeside Drive, Bemus Point, NY 14712             Annual classic and antique boat show on Chautauqua Lake sponsored by the Chautauqua Lake Twin Tier Chapter of ACBS.
http://www.cltt-acbs.org/
. 9-10     
Thunder in the Streets
, Lafayette St and Downtown, Jamestown, NY             Motorcycle rally with professional stunt show, live bands, and motorcycle related vendors. 716-664-2477,
http://www.discoverjamestown.com/
. 9-11     
Festivals 2010 Craft Alliance
, Bestor Plaza, Chautauqua, NY 14722             30
th
annual festival with 67 craftsmen and artists in all media including jewelry, clay, fiber, leather, wood, painting, metal, and more. 716-753-0240,
http://www.chautauquacraftalliance.org/
. 16-18   
Scandinavian Folk Festival
, Route 60, Gerry, NY 14740             Be Nordic for a day! A celebration of Nordic heritage with folk music and dance, lectures, workshops, food and craft vendors.  Colorful displays, ethnic costumes, fiddle and accordion music, and genealogy and history lectures. 716-665-3203,
http://www.scandinavianjamestown.org/
. 16-17   
Victorian Dazzle Festival
, Barker Commons and Downtown, Fredonia, NY 14063             Experience Fredonia ala 1900 with the art, history and romance of a simpler time. Costumes and music of the era are in the park. 716-679-0891,
http://www.festivalsfredonia.com/
. 17-18   
Annual Westfield Antique Show and Sale
, Eason Hall, 23 Elm St, Westfield, NY 14787             71
st
annual show and sale with more than 25 dealers offering quality antiques including furniture, lighting, glass, silver, china, textiles, oriental rugs, and fine art. The show benefits the McClurg Museum. 716-326-2977. 17-18   
Art in the Woods Art Show & Sale
, Audubon Nature Center, Riverside Rd, Jamestown, NY 14701             Nature artists display their creative work in a natural setting. Stroll through the grounds and purchase treasures from the area's top nature artisans. 716-569-2345,
http://www.jamestownaudubon.org/
. 17        
Mark Twain Live!
1891 Fredonia Opera House, 9-11 Church St, Fredonia, NY 14063             Mike Randall returns with his latest one-man show where America's greatest author and humorist is brought to life with all the wit and wisdom that was the trademark of the "Great Man Himself." 716-679-1891,
http://www.fredopera.org/
. 23-24   
YWCA Arts & Crafts Festival
, Moore Park, Westfield, NY 14787             One of the largest arts and crafts shows in the region. Free parking and shuttle bus. 716-326-2011
August 2010
4-8       
Gerry Rodeo
, Route 60, Gerry, NY 14740             The oldest consecutively running rodeo east of the Mississippi! Sanctioned professional rodeo with clowns, mutton bustin', calf scrambles, and a famous Western Beef BBQ. 716-985-4847,
http://www.gerryrodeo.org/
. 6-8       
Lucille Ball's Birthday Celebration & New Comedy
, Downtown Jamestown, 14701             Visit the hometown of Lucille Ball to celebrate what would have been her 99
th
birthday and help to promote a cause the First Lady of Comedy would have been proud of: fostering new comedic talent. 716-484-0800,
http://www.lucy-desi.com/
. 14-15   
America's Grape Country Wine Festival
, Chautauqua County Fairgrounds, Dunkirk, NY             Food, fun and NYS wines with sampling and sales, educational wine seminars, food vendors, arts and crafts show, and live music. 800-965-4834,
http://www.agcwinefestival.com/
. 14        
Wreck & Roll Festival II
, Dunkirk Harbor, Route 5, Dunkirk, NY 14048             A summer celebration incorporating the shipwrecks of Lake Erie, boats, blues and BBQ.
http://www.visitdunkirk.com/
. 22        
Pesto Festo
, Barlow's Mill, 369 West Main St, Fredonia, NY 14063             Fourth annual festival celebrates basil, the herb important in Italian cooking. Taste freshly made basil pesto on pasta.  Garden tours, live music, and an afternoon on the farm. 716-673-9020,
http://www.barlowsmill.com/
. 28        
Jamestown Regional Celtic Festival
, Route 394, Mayville, NY 14757             Fifth annual Gathering of the Clans with Scottish and Irish culture, dancers, pipe bands and Scottish heavy athletic competition.
http://www.96thhighlanders.com/
.
Contact
: Stephanie Burdo 716-357-ILNY (4569) www.tourchautauqua.com www.facebook.com/Tour.Chautauqua