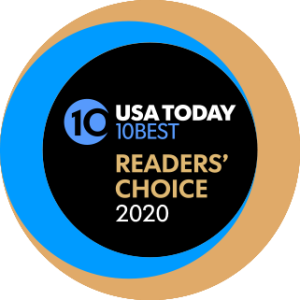 Chautauqua, N.Y. -  Chautauqua Institution is pleased to share that a panel of experts and USA Today 10Best editors have chosen Chautauqua as a nominee for their 2020 Readers' Choice award for the "Best Small Town Cultural Scene" category.
The public is invited to vote daily from June 1 to June 29 for Chautauqua, one of 20 nominees. All votes can be submitted by individuals who are at least 18 years old by going to vote.chq.org
USA Today's 10Best.com provides users with original, unbiased, and experiential travel content of top attractions, things to see and do, and restaurants for top destinations in the U.S. and around the world. Chautauqua region neighbor the National Comedy Center was recently chosen as the Best New Museum in the Country.
Nominees for "Best Small Town Cultural Scene" are chosen by a panel of relevant experts which include a combination of editors from USA TODAY; editors from 10Best.com; relevant expert contributors; and sources for both these media and other Gannett properties. "Chautauqua is a double threat – stunning scenery and a thriving cultural scene, thanks in large part to the celebrated Chautauqua Institution, a summer center for the arts, spiritual growth and recreation," according to the experts. "The institution hosts more than 2,000 events during its annual summer season, including concerts, lectures and educational demos."
"We are thrilled that Chautauqua is included in USA Today's contest among this amazing class of nominees, and so proud of the crucial cultural and economic role Chautauqua Institution plays in our home town and region," said Michael E. Hill, president of Chautauqua Institution. "This is a critical moment for our world to be supportive of cultural communities and institutions, and we thank USA Today for shining a spotlight on these amazing places, all of which we hope will soon be teeming again with cultural activity and culture-hungry patrons."
Chautauqua previously was named by Smithsonian magazine named as the No. 1 "Best Small Town to Visit in 2014" in the cover story of its April 2014 issue, which preceded a lengthy feature later that summer on the front page of The New York Times' Travel section. In January 2011, the hourlong documentary "Chautauqua: An American Narrative" premiered on national PBS stations, and in 2014, WQED-TV, the Pittsburgh PBS member station WQED premiered "Chautauqua: Charting a Life in the Arts," an hourlong documentary following four students of the Institution's Schools of Performing and Visual Arts.
Sign up for daily text reminders to vote
###