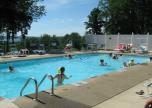 Good Sam RV Travel Guide & Campground Directory puts park in top 1% of campgrounds nationwide
Dewittville, N.Y.
- Bill and Anita Perry, owners of Chautauqua Lake KOA, a 246-site, full service campground located in Dewittville, New York, are proud to report that they have received a perfect rating for their campground in the 2014
Good Sam RV Travel Guide & Campground Directory
. Their rating of 10/10*/10, for facilities, bathrooms and recreation is the highest rating that can be achieved for their campground management and operations in the Good Sam system. According to Good Sam, Chautauqua Lake KOA was one of only 101 parks across the country to attain a perfect rating, representing approximately 1% of the privately owned parks in the nation included in the 2014 directory. Each year, 28 husband-wife teams take to the road in their RVs to inspect RV parks across North America for the directory, with education by a
Standardization and Training
team to ensure all are following the same criteria. There are three categories that are rated, including: completeness of facilities; cleanliness and physical characteristics of restrooms and showers (an "*" denotes perfect ratings for all subcategories in restroom/shower category); and visual appeal and environmental quality. Upon receiving notice of their perfect rating, owner Bill Perry remarked, "We've worked hard to provide a great facility for our customers with many improvements over the years, and we're pleased to have our campground recognized this year by Good Sam with a perfect rating. We'll always keep striving to offer the best camping experience we can." Perry goes on to note that the campground has been highly rated with Good Sam Club directory and with the Woodalls directory (now out of print) for over 12 years. The park was also accorded the Founders Award by Kampgrounds of America (KOA) for 2014, which is the highest award that can be presented in the KOA park system, and was one of two parks in the nation to achieve 600 out of 600 points in the internal KOA rating system for 2014. About Chautauqua Lake KOA:  Located one-half mile from Chautauqua Lake, Chautauqua Lake KOA is a recreational facility situated on 180 acres of wooded and open land, with 246 campsites, as well as rental cabins, designed to cater to overnight or seasonal campers. The campground (formerly known as Chautauqua Heights Camping Resort) has been operated by Bill and Anita Perry since 1994, and is a 20-year member of Campground Owners of New York, a trade association of privately owned campgrounds. The park will be opening May 1, 2014 branded as a KOA Holiday Park. For more information, visit
http://www.chautauqualakekoa.com/
. About Good Sam Club:  The Good Sam Club is an international organization of recreational vehicle owners. With over 1 million members, its stated primary goals are to make RVing safer and more enjoyable, and to save members money through Club-endorsed benefits and services. Good Sam Club is currently owned by the Good Sam Enterprises, which also owns Trailer Life Publications, Motor Home Publications, Camping World,
Good Sam Travel Guide & Campground Directory
, and Coast to Coast. For more information, visit
http://www.goodsamclub.com/
.
# # #
Anita and Bill Perry and grandson Elijah, owners of Chautauqua Lake KOA in Dewittville, NY. (Preferred image for release).
The pool area at Chautauqua Lake KOA was a part of the perfect rating for facilities as reviewed by Good Sam RV Travel Guide and Campground Directory. Photo credit Chautauqua Lake KOA.
Contact
: Bill and Anita Perry, Chautauqua Lake KOA 5652 Thumb Road, Dewittville, NY 14728 (716) 665-0653,
wperry8753@yahoo.com
(contact us for more background information about the park, if needed, including ownership history and record of improvements)