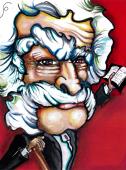 Chemung County, N.Y.
- From leaf peepers to thrill seekers, Mark Twain Country has seen an influx of fall travelers in recent years, and the Chemung County Chamber of Commerce's Convention & Visitors Bureau (CVB) is positioning itself to take advantage of this trend. Chemung County has become home to several legendary Halloween and fall-themed events including the Chemung Valley History Museum's Ghost Walks, Holiday Inn's Monster Bash and a variety of haunted houses and corn mazes, and the CVB has been working with area businesses and attractions to increase the array of fall happenings. A sampling of new events to be added this year are as follows:
Monday evenings in October, Flashlight Cemetery Tours at Mark Twain's Gravesite will be provided by Mark Delgrosso of Mark Twain Country Tours. The one-hour twilight tours will depart at the Walnut Street entry to Woodlawn Cemetery and reveal tales of Twain and his family at the author's final resting place. Reservations can be made by calling (607) 734.9547 or at info@christmas-house.com.
Saturday, October 13th, Tanglewood Nature Center will launch Tangle With Zombies, a 5K trail race on the Mark Twain Trail. Participants will encounter brain-hungry, virus-spreading zombies along the course! Registration forms and details are available at http://www.tanglewoodnaturecenter.com/.
Saturday, October 13th, The Starlite Room will host an evening of the paranormal with legendary psychic Phil Jordan. Reservations are required and may be made at (607) 733.3333 or www.thestarliteroomelmira.com.
Saturday, October 20th, Southern Tier Kayak Tours will offer a guided Leaf Peeping Paddle on the Chemung River, winding through glacier-cut cliffs and filled with spectacular foliage. No experience necessary! To reserve a space, call (607) 220.3642 or visit www.stktours.com.
Monday, November 5th, Charlie's Café will serve a Blind Harvest Dinner offering the unique experience of a gourmet dinner served in complete darkness. For reservations, call (607) 733.0440 or visit www.charliescafeelmira.com.
In addition to these events, a full listing of seasonal fun can be found on the Event Calendar at
http://www.marktwaincountry.com/
.
###
Mark Twain Country Tourism Marketing Promotion Chemung County Chamber of Commerce 400 East Church Street, Elmira, New York 14901
http://www.marktwaincountry.com/
MEDIA CONTACT
: Cynthia Raj
Cynthia@ChemungChamber.org
(607)734.5137