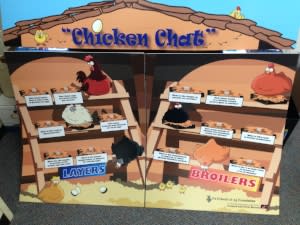 Seneca Falls, N.Y.  – The 2017 Empire Farm Days has announced a full slate of family fun activities and attractions on August 8, 9 and 10 at Rodman Lott and Son Farms in Seneca Falls, NY. Here is a sampling:

Try the Chicken Chat large board game with plastic eggs to win a chicken hat at the NY Farm Bureau Family Education Center. The tent also has puzzles, coloring, grain box play area and balloons.

Sparks the dog and handler Tibbie Dell will offer You CAN Teach an Old Dog New Tricks daily at 9:30 am in the NYS Grange tent. They are fresh from an award-winning performance at the Dalmatian National Competition at Purina Farms in St. Louis. Dell will have free information available on responsible dog ownership right after her program.

New in the farm pond this year will be the opportunity for those 10 and older to try a standup paddleboard or drive pedal kayak from Hobie with Morgan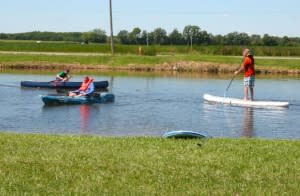 Marine of Penn Yan, NY. Those interested must attend the 10 am, 12 pm or 2 pm water safety demonstration by New York Sea Grant, U.S. Coast Guard Auxiliary, and New York State Marine Services Bureau personnel to receive a free ticket for tryouts that follow immediately after.

A fun way to learn about careers in welding, one of the fastest growing job opportunities in the U.S., will be to try the virtual reality welders in the American Welding Society trailer making its first visit to Empire Farm Days.

Horse-friendly families will enjoy presentations on America's Mustangs on Tuesday and Wednesday and on the refined sport of dressage on Thursday in the 11 am and 2 pm Equine Round Pen demonstrations.

Hot Wheels will be featured in the Grange tent daily at 1:35 pm with a presentation by collector Richard McKee.

Empire Farm Days is the largest outdoor agricultural trade show in the Northeastern U.S. with working equipment demonstrations, crop plots, educational seminars, live animals, farm safety and rural life exhibits. Show hours are 9 am to 5 pm Tuesday and Wednesday, and 9 am to 4 pm on Thursday. Parking is $10 per vehicle. Learn more at www.empirefarmdays.com.
 
PHOTO: The Chicken Chat board game is among the fun new learning activities in the Farm Bureau Family Education Center at Empire Farm Days August 8, 9 and 10, 2017.
 
MEDIA CONTACTS:
 
EFD Manager Melanie Wickham, 877-697-7837
EFD Publicist Kara Lynn Dunn, 315-465-7578