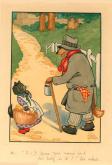 Glens Falls, N.Y.
- From October 1 through December 31, 2011 The Hyde Collection announces their Fall exhibition,
Draw Me a Story: A Century of Children's Book Illustration.
 This delightful show explores bold adventures, classic fairy tales, amazing animals, and imaginative ABCs, all seen through the eyes of forty-one artists who have created works especially for children. Originating from the Cartoon Art Museum in San Francisco,
this exhibition features forty original works of art and thirteen books in a 130-year journey through the history of children's book illustrators and illustration techniques. Located in The Wood Gallery,
Draw Me a Story
includes such well-known artists as Ralph Caldecott, Kate Greenaway, W.W. Denslow, William Steig, Edward Ardizzone, Lois Lenski, Tomie DePaola, Maurice Sendak, Rosemary Wells, Patrick McDonnell, and Chris Van Allsburg, this exhibition explores the process of illustration and its evolution.  The exhibition travels from Glens Falls to The Frick Art and Historical Center in Pittsburgh, Pennsylvania and will be there from January 28, 2012 through May 25, 2012. As an adjunct to
Draw Me a Story
, The Hyde Collection is presenting, for the first time, a selection of children's illustrated books from its own collection. Entitled
Hyde and Seek: Illustrated Children's Books from the Permanent Collection,
the majority of these books once belonged to the grandchildren of Samuel and Eliza Pruyn, whose daughters, Mary, Charlotte and Nell, lived in the three houses that now comprise the heart of The Hyde Collection's campus. Several of the books are inscribed with the name of Mary van Ness "Nessie" Hyde (1903-1979, the only child of Charlotte Pruyn and Louis Hyde. Others were read by Mary Eliza "Polly" Hoopes (1905-1994) and her brother Samuel, the children of Mary Pruyn and Maurice Hoopes. Among the British, French, German, Italian and American illustrators represented here are Jean de Brunhoff, the French originator of Babar and Jessie Willcox Smith, one of America's leading illustrators from about 1890 to 1935. Born near Philadelphia, Smith studied under Thomas Eakins and Howard Pyle and was one of the first women to be inducted into the Society of Illustrators' Fall of Fame. The work of Randolph Caldecott, Walter Denslow, and other well-known illustrators included in
Draw Me Story
is also represented by works in this exhibition selected from the permanent collection. Within
Hyde and Seek,
a reading space we call
The Inside Story
welcomes our youngest visitors and their parents to read and reflect on the images and words within.  Books found in both
Draw Me a
Story
and
Hyde and Seek
, as well as other well-known children's books, will be available to read and enjoy, as part of the exhibition. Opening day, October 1, 2011, is also a free Community Day. From 12noon to 5pm, the museum will offer  programming and activities for children of all ages and their parents. Exhibition sponsors are NBT Bank and The Barton Group.  Media sponsor is The Chronicle Newspaper.
Draw Me a Story
was curated by artist and illustrator Leslie A. Przybylek, Curator of Humanities Exhibitions for Mid-America Arts Alliance in Kansas City, Missouri, and is organized by the Cartoon Art Museum in San Francisco, California. The exhibition is toured by ExhibitsUSA, a national program of Mid-America Arts Alliance.  More information is available at
http://www.maaa.org/
and
http://www.eusa.org/
. For electronic images and more information about the exhibition or events, please contact director of marketing and communications Alice Grether at 518-792-1761 x 28 or
agrether@hydecollection.org
.         
The Hyde Collection is a historic house and art museum complex with a distinguished collection consisting of works by American and European artists such as Botticelli, Rubens, Rembrandt, Picasso, Homer and Eakins, as well as important decorative arts and antique furnishings. The Museum provides changing exhibitions in two gallery spaces, lectures, concerts, family activities and school programming, as well as a Museum Store.
Open year-round Tuesday-Friday 11 am - 4 pm; Saturday and Sunday noon - 5 pm; closed Mondays and national holidays. The Hyde Collection is a non-profit institution located at 161 Warren Street, Glens Falls, New York. For information, visit
www.hydecollection.org
or call 518-792-1761.
                                                                                 ###
Photo Caption: H. G. C. Marsh Lambert (1888-1981), Costumed cat meets wolf, from the book Story of Little Blackie, c. 1925, watercolor on paper, 8 5/8 x 6 1/4 in., collection Cartoon Art Museum, San Francisco, CA.
Contact
: Alice Grether Director of Marketing & Communication 518-792-1761 x 28
agrether@hydecollection.org