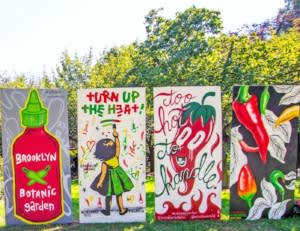 New York City's Hottest Fall Tradition, with Fiery Live Music, Spicy Treats, and More!
Saturday, September 29, 2018 | 11 a.m.–6 p.m.
Brooklyn, NY—Brooklyn Botanic Garden's (BBG) annual Chile Pepper Festival returns for its 26th year on Saturday, September 29, 2018. With scorching global bands and tastings by fiery food artisans from around the city and beyond, the festival sets the Garden ablaze with tastes, sounds, and activities for visitors to enjoy. This year's festival offers 40 artisanal food vendors, live music performances, fire breathers, chile-inspired art, and more.
 
BBG's Chile Pepper Festival celebrates all things spicy with an exciting roster of world music acts from around the globe alongside a marketplace of delicacies to sample and buy featuring chile peppers from local and exotic culinary artisans. Visitors are encouraged to learn about the wide range of cultures that grow and use the fruit of the Capsicum genus by perusing the bookshop or engaging in Chile Chat with a Capsicum connoisseur.
Smoking-Hot Music
This year's festival has seven scheduled hours of live performances by six world-class musical acts hailing from regions of the world where the chile is an integral part of the cuisine. Masters of ceremony Robbins & Ringold light up the Cherry Esplanade Stage with fire breathing, sword swallowing, and other fiery feats. This year's red-hot lineup of bands:
 

Fiery Food Delights
Chile Pepper Festival 2018 features 40 food artisans sharing samples and stories of how their products are made. A focus on independent purveyors—including many Brooklyn-based vendors—means visitors can sample and purchase one-of-a-kind products and meet small business owners with a passion for peppers. Products include hot sauces, spicy chocolates, simmer sauces, and unusual and delicious chile combinations in ice cream, jams, pickles, and more, as well as many products created especially for Chile Pepper Festival. Some spicy food categories at the festival:
 
Hot Sauce Sorcery: Artisanal concoctions cooked up by an array of hot sauce wizards
Chile-Chocolate Debauchery: Signature confections from chocolate companies in Brooklyn and beyond
Combustible Condiments: Chutneys, salsas, and specialty sauces
Hi-Scoville Specialties: An eclectic assortment of sweet and savory treats

Cooking and Cultivating Chiles
Brooklyn's famed Sahadi Market, a Middle Eastern specialty food vendor founded in 1895 and winner of the 2017 James Beard America's Classics award, returns with Sahadi's Souk, a pop-up market offering spices and other specialty ingredients.
Visitors interested in learning more about cooking with chiles can check out Community Bookstore's selection of spicy food cookbooks.
Interested in how to grow and use chiles yourself? Check out Chile Chat in BBG's lush Herb Garden, where Brooklyn gardener and Capsicum connoisseur Gregory Seaton talks about cultivating peppers and their uses in regional cuisines throughout the world.
Red-Hot Street Art
Enjoy chile-inspired murals, tote bags, and more by some of NYC's finest street artists and muralists:
 
Albertus Joseph (@albertusjoseph)
Ariana Febles (@ariana_febles)
Dirt Cobain (@dirtcobain)
Elstabo (@elstabo)
Hektad (@hektad._official)
Justin Winslow (@winslowworld)
Nile Onyx (@nileonyx)
Sean Slaney (@sean_slaney)
Curated by Jeff Beler (@jeffbeler[BJ1] )

Admission for this year's Chile Pepper Festival is $25 for adults, $20 for students and seniors (with ID), and free for members and kids under 12. For more information on all performances, purveyors, programs, and activities, please visit bbg.org/chilepepperfestival.
 
GENERAL INFORMATION
Founded in 1910, Brooklyn Botanic Garden (BBG) is an urban botanic garden that connects people to the world of plants, fostering delight and curiosity while inspiring an appreciation and sense of stewardship of the environment. Situated on 52 acres in the heart of Brooklyn, the Garden is home to over 18,500 kinds of plants and hosts more than 800,000 visitors annually.
 
Learn what's happening at Brooklyn Botanic Garden at bbg.org/visit/calendar; read the Garden's blog at bbg.org/news; and find out what's in bloom at bbg.org/bloom. Visitor entrances are at 990 Washington Avenue and 455 Flatbush Avenue. For hours, directions, and admission information, please visit bbg.org/visit. Follow BBG on Facebook, Twitter, and Instagram, and join the conversation using the hashtag #BrooklynBotanic.
High-resolution images of Chile Pepper Festival at BBG are available here. To arrange an interview or for further information, please contact communications@bbg.org or 718-623-7241.