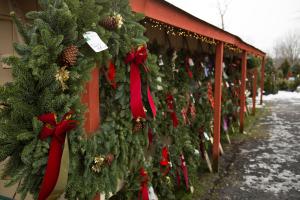 Find the perfect tree for your home's holiday display at a nearby U-cut farm
Orange County, N.Y. (November 24, 2020) – With Thanksgiving right around the corner, many of us are anxious to deck the halls and add some holiday cheer to our homes. This year, more than ever, local farms are in need of your support and many offer a wide selection of beautiful trees perfect for trimming this holiday season. Enjoy a family-friendly outing and holiday-themed experiences as you search for a pre-cut or chop-your-own tree at a nearby farm.
"Whether it's continuing (or starting) a family tradition, a picture-perfect holiday card photo-op, or an excuse for a seasonal outing, the search for a Christmas tree is one that the whole family can enjoy," said Orange County Tourism Director Amanda Dana. "The tree is often the focal point of holiday-inspired home decor, and a live tree is a grand statement to make this season. Make a memory in Orange County and have fun selecting that perfect tree for your home."
Below are some popular tree farms in Orange County, N.Y. Before visiting any of the locations, please contact the venue directly to confirm that they are open and practice safe social-distancing.
Emmerich Tree Farm, 101 Sleepy Valley Road, Warwick: To ensure the health and safety of staff and visitors, this family-owned farm has adjusted its tree experience this year. Visitors can select from a variety of pre-cut and cut-your-own trees, wreaths and decor items, and all inventory is available on the farm's website. Reservations are required and trees will be delivered directly to vehicles. Masks are required for all customers and employees. emmerichtreefarm.com
Manza Family Farm, 730 Route 211, Montgomery: Choose from a large selection of freshly-cut Douglas, Fraser, concolor, and blue spruce trees, and a variety of wreaths and roping. Find trimmings for your new tree at the farm's gift shop. Open daily beginning the day after Thanksgiving. Social distancing required. manzafamilyfarm.net
Pierson's Farm: 1448 Route 211 West, Middletown: Explore the wonderful collection of trees, wreaths, roping, poinsettias, and a gift shop at Pierson's Farm. Visitors can choose from a wide selection of pre-cut trees or cut their own. Open daily beginning the day after Thanksgiving. piersonsfarm.com
Farmside Acres, 280 Angola Road, Cornwall: Choose from a selection of trees, such as Scotch pine, Douglas fir, and blue spruce with saws provided. Open Saturday and Sunday beginning Nov. 28 through Dec. 6, 10:00 a.m. - 4:00 p.m. All guests must adhere to New York State social distancing guidelines and wear a mask when unable to keep a safe space from others. Facebook: @FarmsideAcres
Stone Oak Tree Farm, 207 Stony Bar Road, Slate Hill: Hike more than eight acres and choose from blue spruce, white spruce, and Canaan fir trees. Visit the Bed & Breakfast, featuring a roaring fireplace and gift shop, all in a beautiful timber framed barn. Open weekends beginning Saturday, Nov. 28, 10:00 a.m. until dusk. Social distancing required. stoneoaktreefarm.com
As the world reopens, Orange County, N.Y., invites residents and visitors to escape, enjoy and explore its wide-open spaces. For a full list of attractions, lodging and dining options available at this time, please visit orangetourism.org/fall-fun. Additionally, a fun, free, 56-page travel guide is available for digital download at OrangeTourism.org/travel-guide.
About Orange County Tourism
Orange County Tourism, based in Goshen, N.Y., is the county's tourism headquarters and a participant in the I LOVE NY program. A comprehensive listing of area attractions, lodging and events can be found at OrangeTourism.org. Like Orange County Tourism on Facebook for the latest news on local happenings.
###
Photo features: Manza Family Farm, located at 730 Route 211 in Montgomery, N.Y.
For more information, contact:
J.P. McGuirk
Focus Media, Inc.
845-576-2212