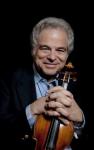 Multi-faceted Perlman Will Showcase Talents as Violinist and Conductor
Saratoga Springs, N.Y.
- Violin virtuoso and classical music icon Itzhak Perlman will be the featured guest artist for the August 20, 2014 program of The Philadelphia Orchestra during its residency at Saratoga Performing Arts Center (SPAC). Winner of 15 Grammy Awards and four Emmy Awards, the Israeli-born Perlman will perform dual roles for the performance, taking center stage as violinist and the podium as conductor. The news was announced today as the kick-off to SPAC's "Building of a Season" programming announcement series which is featured each Thursday at
www.spac.org
. "Itzhak Perlman, arguably the finest violinist of our time, will return to SPAC's stage in 2014 for what will undoubtedly be one of the most thrilling events of our season," said Marcia J. White, SPAC's President and Executive Director.  "Beloved for his charm and humanity and revered for his extraordinary talent, he has brought joy to millions across the world through his music." She added, "we are proud to offer audiences the opportunity to experience Mr. Perlman's gifts as both a violinist and conductor. It will be an unforgettable evening." Born in Israel in 1945, Itzhak Perlman was denied conservatory admission at age 3 because he was too small to hold a violin. Instead, the young Perlman taught himself using a toy instrument. After initial musical training at the Academy of Music in Tel Aviv, Perlman came to New York and was propelled into the international arena with an appearance on the Ed Sullivan Show in 1958. Following his studies at the Julliard School with Ivan Galamian and Dorothy DeLay, Perlman won the prestigious Leventritt Competition in 1964, which led to a burgeoning worldwide career. Since then, he has appeared with every major orchestra and in recitals and festivals around the world. During the past ten years Perlman has also appeared on the conductor's podium and through this medium is connecting in new ways with audiences. He has performed as conductor with the New York Philharmonic, Chicago Symphony, Philadelphia Orchestra, Boston Symphony, National Symphony, Los Angeles Philharmonic, Concertgebouw Orchestra, and the Israel Philharmonic among others. On television, Perlman has appeared not only in PBS performance and documentary specials and series such as
Live from Lincoln Center
, but on popular shows including
The Late Show with David Letterman
,
Sesame Street
,
The Tonight Show
and various Grammy Awards telecasts. He collaborated with film composer John Williams in Steven Spielberg's Academy Award winning film
Schindler's List
in which he performed the violin solos, and can also be heard as the violin soloist on the films
Hero
and
Memoirs of a Geisha
. Actively involved in music education, Perlman has taught full-time at the Perlman Music Program at the Van Wezel Performing Arts Center in Sarasota each summer since its founding in 1993. He currently holds the Dorothy Richard Sterling Foundation Chair at the Julliard School, where he has been on the faculty since 1999. Mr. Perlman performed as part of the first inauguration of President Barack Obama. Other notable appearances and honors include a 2007 performance at an official State Dinner for Her Majesty The Queen and His Royal Highness The Duke of Edinburgh and a 2012 official State Dinner honoring Israeli President and Presidential Medal of Freedom honoree Shimon Peres. In 2003, the John F. Kennedy Center for the Performing Arts granted Mr. Perlman a Kennedy Center Honor celebrating his achievements and contributions to the cultural and educational life of our nation. Perlman, who last appeared at SPAC in 2007, will perform Bach's Violin Concerto in A Minor. The remainder of the program will be announced at a later date.   Tickets to SPAC's 2014 Classical Season will go on sale to SPAC members in February and to the public in March. Details will be available on
spac.org
in the coming weeks.
###