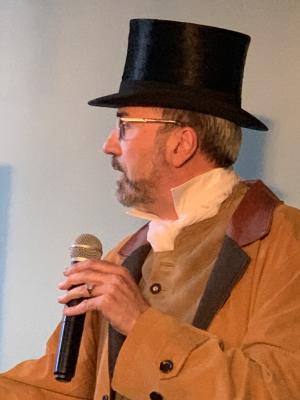 Scheduled for May 17th
Plattsburgh, N.Y. – An overview of the life of Plattsburgh's medical pioneer, Dr. William Beaumont, will be presented by Dr. Paolo Fedi, May 17th, 6:30 pm, at the MHAB Life Skills Campus, 14 Dormitory Drive, Plattsburgh (off New York Road, then Idaho Avenue). 
Dr. Beaumont was declared by SUNY Plattsburgh, during their dedication of the Beaumont Building, to be one of the greatest physicians in world medical history for his study of the human digestive process.  Dr. Fedi, also a gastroenterologist, will tell the story of Beaumont struggles and successes which earned Beaumont his acclaim and provide insights into the unusual methods by which Beaumont added to scientific knowledge. Beaumont married, taught school, buried a son, aided our 1814 soldiers, practiced medicine, and published his medical classic "Experiment and Observations on the Gastric Juice and the Psychology of Digestion ", all in Clinton County.
Dr. Beaumont's story is one of legend, and his legacy is shared throughout the United States with hospitals and awards bearing his name.  This live event is sponsored by the Clinton County Historical Association.  Masks and distancing are required. Temperatures will be taken at the door.  There will also be a zoom connection to the presentation which can be accessed by emailing the CCHA Director. For more information call 518-561-0340 or email director@clintoncountyhistorical.org.
Photos: https://en.wikipedia.org/wiki/William_Beaumont_Army_Medical_Center,
Top photo: Dr. Paolo Fedi in period dress