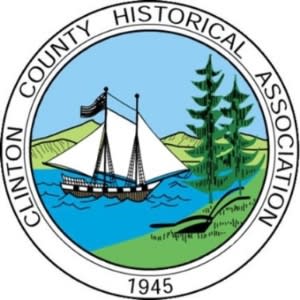 Tuesday, June 20, 2017 at 7:00 p.m.
Plattsburgh, N.Y. - Please join the Clinton County Historical Association (CCHA) on Tuesday, June 20, at 7:00 p.m., for Dr. Richard Frost and Melissa Peck's launch and signing of their new book "The Plattsburgh Military Reservation – A Pictorial History.".  The event will take place at the Valcour Brewing Company (aka Old Stone Barracks), 49 Ohio Avenue, south of the Oval on the "Old Base Museum Campus," in the City of Plattsburgh.
This special book launch will include a presentation by Rich Frost on the creation of the book which covers the history of the Military Base from the War of 1812 until the closing of the Plattsburgh Air Force Base in 1995. In the book are included many never before seen pictures and little-known facts about this historic area.  The presentation and book will fascinate both history buffs and those who have a special relationship with the former Plattsburgh Air Force Base and the rich history of the Champlain Valley.  Light refreshments will be provided and a cash bar will be available.
Publication of this book was made possible through a grant provided by the New England Interstate Water Pollution Control Commission in partnership with the Lake Champlain Basin Program and the Clinton County Historical Association.
CCHA lectures are free and open to the public.
###
The CCHA Museum is open Wednesday through Saturday from 10 a.m. to 3 p.m.  For more information, visit www.clintoncountyhistorical.org or call 518-561-0340. Museum admission is free and donations are accepted.
Contact:
Helen Nerska
Clinton County Historical Museum
98 Ohio Avenue
Plattsburgh, NY 12903
518-561-0340
director@clintoncountyhistorical.org
www.clintoncountyhistorical.org