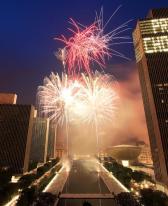 Set sail for adventures on the Hudson and parties in Albany as summer officially arrives.
Albany, N.Y.
- Celebrate Independence Day in style in New York's Capital Region! From festivals to fireworks, the Albany area has a Fourth of July celebration for every age and style!  
FOURTH OF JULY CELEBRATIONS:
Grand Old Fourth of July
The Farmers Museum | Cooperstown | (607) 547-1450 Patriotic banners & bunting - a typical 1845 celebration; music, games, dances, & orations.
Independence Day 2012 
Old Stone Fort Museum | Schoharie | (518) 295-7192 Day-long, Living History program centers on the events surrounding the signing of the Declaration of Independence.  
Independence Day at Schuyler Mansion
Schuyler Mansion State Historic Site | Albany | (518) 434-0559 Free, old-fashioned July 4th celebration; re-enactors, music, magic, & demonstrations.
New York State's 4th of July Celebration Presented by Price Chopper
Empire State Plaza | Albany | (518) 473-0559 A dramatic setting for dazzling fireworks, great food, crafts, & entertainment. Join the party with fun and music beginning at 2 p.m.  
SUMMER FUN AND EVENTS IN AND AROUND ALBANY:
  Though the 4th of July is a fun and important day, it flies by fast. Here are some fun activities and events for the rest of July: 7/6-7/29  |
Cabaret 
Park Playhouse | Albany | (518) 434-0776 Willkommen, bienvenue, welcome! Enjoy a night of free theatre under the stars as Park Playhouse kicks off its 24th Season with a Kander and Ebb classic. Relax in the free amphitheatre seating or call for prefered seats to be part of the action at the cabaret. 7/8 |
 Polish Summer Festival
Come to the party and enjoy a day filled with delicious Polish foods, festive music and games, as well as activities for the kids! 7/10-7/21 | 
NYC Ballet
SPAC | Saratoga | (518) 584-9330 It wouldn't be July in Saratoga without a visit from the world-renowned New York City Ballet. Enjoy a night of captivating dance in one of upstate New York's most breathtaking atmospheres. 7/14-7/15 |
Shaker Summer Craft Fair
Shaker Heritage Site | Albany | (518) 456-7890 Find the perfect item for your home or gift for a friend at our Summer Craft Fair! Explore the booths of more than 80 crafters on the grounds of the Shaker Heritage Society. 7/15 |
GE Kids Day
Empire State Plaza | Albany | (518) 473-0559 With numerous interactive activities, including bounce rides, pony rides, face painting, arts and crafts, jugglers, balloon artists, and experiments guided by GE employees, GE's Kid's Day is the place to be for kids of all ages. 
###
http://www.albany.org/
 | 800-258-3582 For additional listings, visit our events calendar at
http://www.albany.org/
.