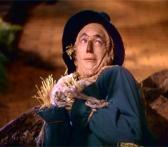 Owego, N.Y.
-- Businesses, clubs, organizations and individuals have decorated downtown Owego with scarecrows for the 1st annual "Scarecrow Owego" competition.  You can be an official judge of these original creations.  Please visit the scarecrows at their place of existence and vote!  The scarecrows will be on display throughout the Owego retail district from October 8-November 5.  Each scarecrow location, lisited below, will have a ballot box inside the business.    
1. "Hunk" (Wizard of Oz), created by the Village of Owego, located at the Village of Owego office, 178 Main Street
2. "Wanda", created by Owego United Methodist Youth Fellowship, located at Ruscak's Stained Glass, 210 Front Street
3. "Lucy" The Gymnast, created by Owego Gymnastics, located at Van Horn Jewelers, 31-33 Lake Street
4. "Harvest Scarecrow", created by Zion Lutheran School, located at Van Horn Jewelers, 31-33 Lake Street
5. "Shearyl Crow & Hairy-it Styles", created by Shear Paradise, located in the window at Shear Paradise, 56 North Avenue
6. "Marital Bliss", created by Lew and Marte Sauerbrey, located in the window at Tioga County Visitor's Center, 80 North Avenue
So cast your vote soon and may the best scarecrow win! Tioga County Tourism is the official tourism promotion agency for Tioga County and is located at 80 North Avenue, Owego.  For more information, please go to www.visittioga.com or call Stella Reschke at 607-687-7440 or email
stella@visittioga.com
.
# # #