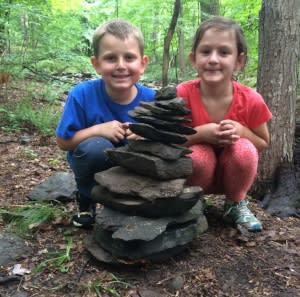 Cornwall, N.Y. – The Hudson Highlands Nature Museum is gearing up for Summer!  The Museum's Summer Science & Nature Camp, for children from ages 4 through 12, takes place in weekly sessions from July 3 until August 25. In addition, two special weeks will be offered for older campers. "Super Science Week," for ages 9-12, dubbed Trail Blazers, will meet July 17 – 21, and "Eco Rangers," ages 13-16, meets July 24 – 28, culminating in an overnight camp-out. 
This year features new themes, field trips, activities and adventures! According to Senior Environmental Educator and Lead Counselor Carl Heitmuller, "The great thing about our camp is that we get the kids outside and having fun by exploring the forest, fields and ponds to see what they offer… it's not your typical dodgeball or kickball.  Each week is a different theme so you can come several weeks and experience something new each week." Space is limited so campers are urged to register early.  Early drop-off and late pick-up are also offered.  
The Ramblers & Explorers Program is for children ages 4-6.  This program meets in week long sessions at the Museum's Outdoor Discovery Center.  Half-day sessions are offered for "Ramblers", children ages 4 -5, mornings (9 a.m.-11:45 a.m.) and a full-day program is offered for "Explorers", children ages 5 & 6 (8:45 a.m.-2:45 p.m.)  Extended hours and a lunch program for the half-day Ramblers are an option. Campers will enjoy nature adventures, hikes, crafts, games, music and fun. Every week will include a field trip day to the Museum's Wildlife Education Center to meet live animals and enjoy its exhibits and trails.  Parents provide transportation.
The Trekkers Programs is for children ages 7-12 year olds. Campers enjoy weeklong, adventure packed programs filled with fun and exploration. This camp takes place at the Museum's Outdoor Discovery Center.  One day each week is spent exploring the Hudson River at Kowawese Unique Area in New Windsor and another day on an exciting field trip. Campers meet for a six hour day (9 a.m.-3 p.m.). Transportation by chartered bus for field trips.  Parents provide transportation to local off-site destinations.
The Trail-Blazers Program "Super Science"  is for children ages 9-12 and runs  - July 17 – 21.Through hands-on activities and experiments, campers will learn about their surrounding environment and how science helps us protect our planet. This inquiry-based science week is full of "Ology" – geology, biology, ecology, paleontology, zoology….Campers will explore a variety of scientific fields while learning to problem solve using the scientific method! At the end of the week, the Trail Blazers will take a simulated space ship mission at the Challenger Learning Center in Ramapo, NJ
The Eco-Rangers Program is for children ages 13-16  runs July 24 - 28. Eco-Rangers will start the week with three days of wilderness adventures including two day-long expeditions. They will complete the week with one overnight stay sleeping under the stars with a hammock to keep! Dinner, s'mores, and breakfast included. This camp takes place at the Museum's Outdoor Discovery Center, 9 a.m.- 3 p.m. on Monday, Tuesday and Wednesday; 6 p.m. Thursday to 8 a.m. Friday.   
Call 845-534-5506 ext 211 for any camp related questions, but please note that camp registration cannot be taken over the phone. Visit hhnm.org for more information about Summer Camp and to register your camper.
                                                            ###
Photo Caption: Register today for the Hudson Highlands Nature Museum's Summer Science and Nature Camp and connect kids with nature this Summer. Photo by Kait Rose.
For additional information contact:
Joanna Reisner, Marketing Assistant
Hudson Highlands Nature Museum