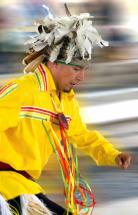 Cooperstown, N.Y.
- On Memorial Day weekend, May 26-27, the
Iroquois Cultural Festival
spreads its wings
on the expansive lakefront lawn of the Fenimore Art Museum in Cooperstown. A remarkable gathering of Haudenosaunee (Iroquois) artisans, dancers, interpreters, and Native American scholars, this first-ever festival can't be missed. Storytellers Perry Ground, Kay Olan, and Mike Tarbell reflect the importance of Iroquois oral tradition, in which stories are told to teach as well as provide enjoyment. With admission to the festival, visitors can explore the extraordinary Eugene and Clare Thaw Collection of American Indian Art, a collection of over 800 objects representative of a broad geographic range of North American Indian cultures. Tours of
Otsego: A Meeting Place
and its Seneca Log House and Mohawk Bark House are also part of the festival.   Another highlight of the weekend is a concert by Haudenosaunee singer, composer, and Grammy Award winner Joanne Shenandoah at The Farmers' Museum on Saturday, May 26 at 7:00 p.m. Tickets are $20 and available at the museum or the Fenimore's website. The festival is hosted by the New York State Historical Association, in partnership with the Iroquois Indian Museum. "Through the festival and other programs, NYSHA seeks to further educate the public about Haudenosaunee culture, both past and present," explains Garet Livermore, Vice President for Education. The festival is made possible through a grant from the Institute of Museum and Library Services and a contribution from Price Chopper's Golub Foundation. The Iroquois Cultural Festival happens on Saturday and Sunday, May 26-27, 10:00 am-5:00 pm at the Fenimore Art Museum. Festival and concert admission may be purchased separately. Festival admission: adults and juniors (13-64) is $12.00; seniors (65+): $10.50; and free for children (12 and under). Admission is always free for NYSHA members, active military, and retired career military personnel. Please become a member and enjoy free admission all year. For more information, visit FenimoreArtMuseum.org.
###
Photos:  
Courtesy of the Iroquois Indian Museum, Howes Cave, New York.
About Fenimore Art Museum
The Fenimore Art Museum, located on the shore of Otsego Lake -- James Fenimore Cooper's "Glimmerglass Lake" -- in historic Cooperstown, New York, features a wide-ranging collection of American art including: folk art; important American 18th- and 19th-century landscape, genre, and portrait paintings; an extensive collection of domestic artifacts; more than 125,000 historical photographs representing the technical developments made in photography and providing extensive visual documentation of the region's unique history; and the renowned Eugene and Clare Thaw Collection of American Indian Art comprising more than 800 art objects representative of a broad geographic range of North American Indian cultures, from the Northwest Coast, Eastern Woodlands, Plains, Southwest, Great Lakes, and Prairie regions. Founded in 1945, the Fenimore Art Museum is NYSHA's showcase museum. FenimoreArtMuseum.org
For more information or images, please contact:
Todd Kenyon, Public Relations New York State Historical Association Fenimore Art Museum/The Farmers' Museum Phone: (607) 547-1472 / E-mail:
t.kenyon@nysha.org