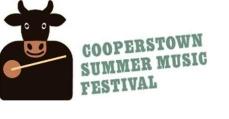 Tickets now on sale
Cooperstown, N.Y.
- The Cooperstown Summer Music Festival, under the artistic direction of flutist Linda Chesis, celebrates its fifteenth anniversary season with a diverse offering of musical experiences. From rebellious Baroque innovators to a critically-acclaimed jazz songstress, this year's Festival promises to excite and inspire. The Festival presents five classical concerts, an evening of jazz with Hilary Kole, and four free community concerts that pair accomplished amateur musicians with professional artists. The Festival opens July 7 with the concert
Birds of Paradise: Music for Winds and Piano
. In addition to works by Debussy, Mozart, and Poulenc, the evening features a
new multi-media work
that pairs a live performance of Robert Sirota's 2008 composition
Birds of Paradise
with videos and bird calls from the Cornell Lab of Ornithology's Birds-of-Paradise Project.  At a pre-concert talk at 7 pm, Cornell Lab of Ornithology scientist Ed Scholes, composer Robert Sirota and Festival artistic director Linda Chesis will discuss their collaboration. Scholes, an evolutionary biologist, spent 8 years and 18 expeditions scientifically documenting all 39 species of the birds-of-paradise family with National Geographic photographer Tim Laman.  Joining Chesis in performing on Opening Night are: James Roe, oboe; Marianne Gythfeldt, clarinet; Adrian Morejon, bassoon; Zohar Schondorf, French Horn; and Pedja Muzijevic, piano. On August 4 in a 3 pm afternoon concert, the Baroque ensemble
REBEL
performs works by Corelli, J.S. Bach, Gallo, Gabrieli, Boyce and Telemann.
Vienna
is the focus of two Festival concerts on August 7 with the
Amphion String Quartet
, flutist Linda Chesis and clarinetist Mingzhe Wang, and on August 14 with the
Walden Chamber Players
. "I was curious to explore how the Viennese culture inspired three centuries of composers," explains Chesis. She notes that Viennese treats will be served at intermission at both concerts.
Vocalist Hilary Kole
returns to the Festival August 11 to headline the
Festival's jazz performance
and will offer songs from Cole Porter and Irving Berlin to Elvis Costello and Paul Simon. The Festival finale is a return performance of the
East Coast Chamber Orchestra
. This 15-member strong group will perform Mozart, Ravel, a 2013 commission by Judd Greenberg, and more. Free performances at the Festival include
Pro Am performances
July 9-11 and the
Flute Fest
on August 1, with the NY Summer Music Festival International Flute Institute.
Tickets and Information
Tickets are now available online, CooperstownMusicFest.org and by phone through Brown Paper Tickets, 800.838.3006. Tickets also will be sold at the door, as available. Tickets are $25 for adults; $15 for students 6-18.  Pro Am performances July 9-11 and the Flute Fest on August 1 are free and open to all and do not require a ticket or reservation. Festival concerts are held in and around Cooperstown, NY. 
The Otesaga Resort Hotel 60 Lake Street, Cooperstown The Otesaga is the Festival's home for concerts on July 7 and August 1, 4, and 11. The grand, Federal-style building occupies 700 feet of lakefront on the southern shore of Lake Otsego, the lake that inspired James Fenimore Cooper. Concerts are held in the Ballroom. Free parking available in the hotel's lot.
The Farmers' Museum 5775 State Route 80, Cooperstown Festival concerts on August 7, 14 and 21 will be held in the museum's Louis C. Jones Center. This Colonial Revival stone barn, known for its excellent acoustics, provides an informal yet intimate concert setting. One of the oldest rural life museums in the country, The Farmers' Museum provides visitors with a unique opportunity to experience 19th-century rural and village life. Free parking and picnic sites available.
Pathfinder Village, 3 Chenango Road, Edmeston, free Pro Am performance July 9
Grace Church, 32 Montgomery Street, Cherry Valley, free Pro Am performance July 10
Christ Church 46 River Street, Cooperstown, free Pro Am performance July 11
About the Cooperstown Summer Music Festival
Linda Chesis started the Festival with three events in 1999, and since then it has offered the region more than 100 concerts, from classical to contemporary, jazz to bluegrass, cabaret to kids' concerts. The Festival has featured: Midori, Hank Jones, the Tokyo String Quartet, the American String Quartet, the St. Lawrence String Quartet, the Horszowski Trio, Kurt Elling, Tim Fain, Bill Charlap, Keisuke Wakao, the Tierney Sutton Band, the Juilliard String Quartet, Simone Dinnerstein, and Mark O'Connor. A complete list of Festival artists is available on the website,
http://www.cooperstownmusicfest.org/
.  Concerts are held at The Farmers' Museum, the Otesaga Resort Hotel and other venues in and around Cooperstown. The Cooperstown Summer Music Festival is made possible by the New York State Council on the Arts with the support of Governor Andrew Cuomo and the New York State Legislature.
About Linda Chesis
Flutist Linda Chesis is founder and artistic director of the Cooperstown Summer Music Festival. She is a member of the flute faculty and chair of the Woodwind Department at the Manhattan School of Music. She has been hailed by critics on three continents as one of the most exciting and dynamic flutists of her generation. The top prize winner at the Paris and Barcelona International competitions, and at the National Flute Association Competition, Ms. Chesis has performed with orchestras and in solo recitals throughout the US, France, Great Britain, Germany, Japan and Korea.  Her recordings can be heard on the EMI, Nonesuch and Music Masters labels.