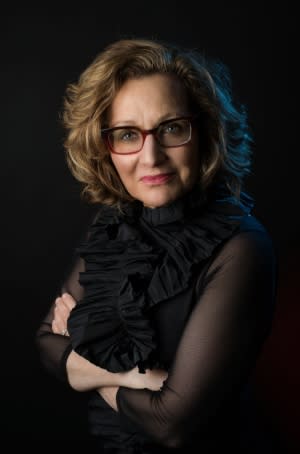 Cooperstown, N.Y. – There is an online substitute for just about everything these days, but there is no substitute for the unique magic of a live performance. Regular concertgoers and first-time attendees alike can experience the thrill of being up close and personal with world-renowned artists at a Cooperstown Summer Music Festival concert.
The 20th Anniversary season of the Cooperstown Summer Music Festival, under the artistic direction of flutist Linda Chesis, offers spring and summer concerts in landmark Cooperstown venues. Featured artists include returning Festival favorites—the American String Quartet, harpsichordist Bradley Brookshire, violinist Joseph Lin—and new faces such as jazz guitarist and singer John Pizzarelli, the Argus Quartet, and pianists Ran Dank and Soyeon Kate Lee.
TWO CONCERTS FOR SPRING:
Death and the Maiden: The American String Quartet and Linda Chesis, flute
Sunday, April 15 at 4pm, Otesaga Resort Hotel, 60 Lake Street, Cooperstown
Recognized as one of the world's finest quartets, the American String Quartet will once again offer audiences a world-class performance of masterpieces from the quartet repertoire. The program includes Debussy's Quartet in G Minor, Schubert's Death and the Maiden Quartet, and the world premiere of a new arrangement of Griffes' beloved Poem for flute and string quartet.
Visions and Miracles: Argus Quartet
Sunday, May 6 at 4pm, Christ Episcopal Church 46 River Street, Cooperstown
The Argus Quartet, one of today's most dynamic and versatile young ensembles, will offer an innovative program of music that draws inspiration from philosophical, divine, and ancient sources, including works by Josquin, Haydn, Mendelssohn, Theofanides and more.
MAINSTAGE FESTIVAL EVENTS IN AUGUST:
John Pizzarelli Trio
Sunday, August 5 at 7:30pm, Otesaga Resort Hotel, 60 Lake Street, Cooperstown
Come spend an evening with this world-renowned jazz trio lead by guitarist John Pizzarelli, who the Boston Globe credited with "reinvigorating the Great American Songbook and re-popularizing jazz."
Ran Dank and Soyeon Kate Lee, piano
Sunday, August 12 at 7:30pm, Otesaga Resort Hotel, 60 Lake Street, Cooperstown
Two incredible pianists – who also happen to be husband and wife -- will present a program of works for solo piano and piano four-hands, including selections by Mozart, Debussy, Stravinsky, Granados and Barber.
Bon Appetit and Bolling Suite
Monday, August 20 at 7:30pm, Otesaga Resort Hotel, 60 Lake Street, Cooperstown
Join us for a deliciously out-of-the-ordinary concert experience. Watch as mezzo-soprano Samantha Malk whips up a chocolate cake on stage using real ingredients in Lee Hoiby's Bon Appétit!, a miniature one-woman opera based on Julia Child's beloved cooking show and accompanied by woodwind quintet and piano. Then explore the innovative blend of baroque idioms and swing-style jazz found in Claude Bolling's Suite for Flute and Jazz Trio, performed by Linda Chesis, flute, Warren Jones, piano, Ron Wasserman, bass and Jon Di Fiore, drums. Chocolate cake will be served at intermission.
Brandenburg Concertos with Joseph Lin, violin and the Sullivan County Chamber Orchestra 
Sunday, August 26th at 7:30pm, Otesaga Resort Hotel, 60 Lake Street, Cooperstown
Come hear John Sebastian Bach's magnificent Brandenburg Concertos (III, IV, V & VI), which have proven their extraordinary power to captivate audiences for almost 300 years. Joseph Lin, who delighted audiences with his Four Seasons performance last year, returns to lead the Sullivan County Chamber Orchestra along with Linda Chesis, flute, Andrew Trombley, bass and Bradley Brookshire, harpsichord.
Stay tuned for announcements about additional events and pop-up concerts at venues around the Cooperstown area!
TICKET INFORMATION:
Tickets are $25 for adults and $15 for students for all of the listed events. Tickets can be purchased in a variety of ways:
Online: Cooperstownmusicfest.org (check back soon for the debut of our new website!)
Phone: Brown Paper Tickets, 800/838-3006, open 24/7
No service charges
Tickets sold at the door, as available.
 
ABOUT THE COOPERSTOWN SUMMER MUSIC FESTIVAL:
Since 1999, the Cooperstown Summer Music Festival has been bringing world-class chamber music performances to the Cooperstown area for 20 years. The festival has featured performances by the Tokyo String Quartet, the American String Quartet, the St. Lawrence String Quartet, Kurt Elling, Tim Fain, Bill Charlap, Hilary Kole, Simone Dinnerstein, Mark O'Connor, the Sonia Olla Flamenco Dance Company, and many more.
Cooperstown is home to the National Baseball Hall of Fame and Museum, the Glimmerglass Festival, and the Fenimore Art Museum as well as many galleries, restaurants, and a historic Main Street.
Concerts are held in venues across Cooperstown, including Christ Church (the church of author James Fenimore Cooper) and the ballroom of the grand Otesaga Hotel.
Celebrated graphic artist Milton Glaser (best known for the I LOVE NEW YORK campaign) has created a series of 17 posters for the Festival featuring violins and cows, a nod to Cooperstown's rural character. Performance Today host Fred Child has said, "Not only do they do interesting concerts, they have great posters."
The Cooperstown Summer Music Festival is made possible by the New York State Council on the Arts with the support of Governor Andrew Cuomo and the New York State Legislature.
See cooperstownmusicfest.org for details.
Linda Chesis' (pictured) publicity photo is available at: 
https://drive.google.com/file/d/1qe62ddrQWuzhH9o71jzy2ClsbWl_mZlW/view?usp=sharing
For additional information or artist photos, please contact Katie Dryden at katharine.dryden@gmail.com or (716) 572-2993.

###
Contact: Katie Dryden, katharine.dryden@gmail.com or 716-572-2993