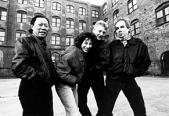 Cooperstown, N.Y.
- The Cooperstown Summer Music Festival presents the REBEL Baroque Ensemble with guest Leon Schelhase, harpsichord on Sunday, August 4, at 3 pm at the Otesaga Resort Hotel in Cooperstown, NY. The program, BAROCCO: MUSICAL TREASURES OF THE 17th & 18th CENTURIES, features works by Corelli, J.S. Bach, Mozart, Vivaldi, and Telemann. REBEL features Jörg-Michael Schwarz and Karen Marie Marmer, violins & directors, and John Moran, violoncello. Named after the innovative French Baroque composer Jean-Féry Rebel (1666-1747), REBEL has performed in many European cities as well as U.S. venues such as the Da Camera Society, the Library of Congress, Caramoor, Chautauqua, the Isabella Stewart Gardner Museum, the Cleveland Museum of Art, the Boston and Berkeley Early Music Festivals and Music Before 1800, among many others. Through its long-term residency at historic Trinity Church in New York City, REBEL has received acclaim for its collaborations with Trinity Choir in performance, radio broadcasts, webcasts and recordings with works ranging from the cantatas of Bach to large scale works by Monteverdi, Handel, Bach, Purcell, Mozart and Haydn. "I know Festival audiences will enjoy REBEL's visceral and virtuosic approach to Baroque music" says Linda Chesis, the Festival's artistic director. "Performing on period instruments, REBEL manages to combine an idiomatic Baroque style with 21st century 'edge-of-your-seat' excitement." REBEL has been regularly featured on APM's
Performance Today
and
St. Paul Sunday
and has recorded for all the major European national radio networks. REBEL became the first and only period instrument ensemble to be awarded an artists' residency at National Public Radio. Hailing from Cape Town, South Africa, Leon Schelhase has performed with Emmanuel Music, Ensemble Florilege, and the Gardener Museum Orchestra and Cambridge Concentus, a Boston-based ensemble specializing in the music of Bach, of which he is a founding member. He is recipient of the prestigious Goldberg Prize for young artists presented by American Bach Soloists. This concert is sponsored by WSKG. "I'm looking forward to hearing REBEL in person, after years of enjoying their music on
Performance Today
and other public radio programs," says Gregory Keeler, interim director of programming at WSKG. "They were artists in residence at National Public Radio, a well-deserved distinction our network does not bestow lightly."
Festival continues with classical concerts and an evening of  jazz
The Cooperstown Summer Music Festival's 15th season continues with three concerts at the Otesaga Hotel, 60 Lake Street in Cooperstown:
Flute Fest
Thursday, August 1, at 7:30 pm,
REBEL Baroque Ensemble
Sunday, August 4 at 3 pm, and
Jazz with vocalist Hilary Kole
Sunday, August 11 at 7:30 pm.  The Festival also presents three Wednesday evening (7:30 pm) concerts at The Farmers' Museum, 5775 State Hwy 80 in Cooperstown:
Vienna 1: The Imperial City
August 7,
Vienna 2: A Tradition of Innovation
August 14, and
the East Coast Chamber Orchestra
August 21. For more information, call 877/666-7421, visit the Festival's web site,
http://www.cooperstownmusicfest.org/
, or email
info@cooperstownmusicfest.org
. Tickets are not required for Flute Fest, which is free and open to all. Tickets to other Festival concerts ($25 for adults, $15 for students) can be ordered online,
http://www.cooperstownmusicfest.org/
, by calling the box office service Brown Paper Tickets, 800/838-3006, or purchased at the door, as available.
###
[Media Inquiries: contact Peg Odell, 877/666-7421,
odell5@stny.rr.com
]