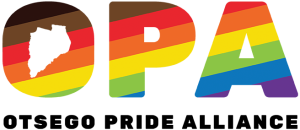 Cooperstown, NY (MAY 11, 2023) - June is Pride Month, a celebration of LGBTQ+ self-identity, inclusivity, and equality. To celebrate, local businesses have partnered with Otsego Pride Alliance to present Cooperstown's first ever Pride Weekend. Celebrating what makes Cooperstown unique, Cooperstown Pride Weekend is a way to gather the entire community to promote equality and celebrate diversity. The festivities will start Thursday morning, June 1 and will continue through Sunday, June 4, 2023.
COOPERSTOWN PRIDE WEEKEND SCHEDULE:
THURSDAY, JUNE 1
8:30 AM
COOPERSTOWN PRIDE FLAG RAISING
VILLAGE HALL - 22 MAIN ST, COOPERSTOWN, NY 13326
Cooperstown will celebrate Pride Month with the raising of the Pride flag at the Village Hall on Thursday, June 1 at 8:30 AM. Former Cooperstown Trustee MacGuire Benton will be in attendance to kick-off the first ever Cooperstown Pride Weekend with a special performance by students from the Cooperstown Central School's Identity Alliance organization. Complimentary hot chocolate and coffee will be provided by Stagecoach Coffee. Be sure to join us at Mel's at 22 for dinner as they will be donating a portion of their sales that evening to the Cooperstown Central School's Identity Alliance organization.
FRIDAY, JUNE 2
7 PM – 10 PM
FIRE PIT FRIDAY: PRIDE CELEBRATION
BREWERY OMMEGANG - 656 CO HWY 33, COOPERSTOWN, NY 13326
We're kicking-off Cooperstown Pride Weekend with a bang! On Friday, June 2, 2023, Ommegang will be presenting a special Fire Pit Friday celebrating Pride Month. The all-ages event will feature drinks, food and a bonfire! The evening will also include a special welcome address by Cooperstown's Mayor, Ellen Tillapaugh, a live DJ-set by DJ TRUMASTR and a spectacular fireworks display sponsored by Hanna Majestic, John Webb, Nelson Mondaca, Weinert's Elk Creek Farm and the Landmark Inn. Local businesses will be onsite selling special Cooperstown Pride Weekend merchandise with a portion of the proceeds benefiting the Cooperstown Central School's Identity Alliance organization. Free to attend, beer and food will be available for purchase with a portion of the proceeds from Neon Rainbows sales that evening donated to Otsego Pride Alliance.
SATURDAY, JUNE 3
2 PM – 8 PM
PRIDEFEST: BLOCK PARTY
MAIN STREET IN ONEONTA, NY
Presented by Otsego Pride Alliance, this year's Pridefest will kick-off with a parade starting at the
Foothills Performing Arts & Civic Center leading up to a special Block Party on Main Street in
Oneonta! Join us for live music, family friendly drag shows, kid's activities, vendors, speakers, yoga,
community resources and much more! To see the full schedule of events, visit
SUNDAY, JUNE 4
Noon – 3 PM
FAMILY PRIDE DAY
BARNYARD SWING - 4604 NY-28, MILFORD, NY 13807
The Landmark Inn partners with Barnyard Swing to present Family Pride Day. The fun-filled event will include family friendly activates such as face painting, spin art, fossil safari, miniature golf, music by DJ Raphael, a special appearance by Rapunzel and much more. Hot dogs and beverages will also be available for purchase. Be sure to come dressed in your favorite rainbow colors and receive a free soft serve ice cream. The Susquehanna SPCA will be in attendance with pets available for adoption. A portion of the proceeds from Family Pride Day will be donated to the Cooperstown Central School's Identity Alliance organization.
To learn more about Cooperstown Pride Weekend visit www.otsegopridealliance.org
About Cooperstown Central School's Identity Alliance
The Cooperstown Central School's Identity Alliance mission is to provide a more inclusive and celebratory environment for our LGBTQ+ community, allies, and all students. Every student deserves to be seen and celebrated for the unique that is their life. Identity Alliance's goals and objectives for extracurricular is to maintain a safe space for all students to express themselves and realize that their identities are valid and should be celebrated. Creating clear expectations that students have rights to take up space in our school community and beyond. To understand their voice and rights while being affirmed in their journey of identity. We will create space where students have a network of safe adults and peers, a place to find and secure needed resources and tools as they navigate their way.
About Otsego Pride Alliance
The mission of Otsego Pride Alliance is to support, raise awareness, and create understanding of the LGBTQIA+ community and its needs in the Otsego County area. We work to foster open-mindedness and the creation of safe places for members of the community, allies, friends, and family to express themselves freely. By recognizing the full spectrum of sexual orientation and gender identity we seek to promote an environment in which all feel welcome. To these ends we engage in community outreach, activism, and other activities including an annual Pridefest. www.otsegopridealliance.org
###
PRESS CONTACT:
Keith Gulla