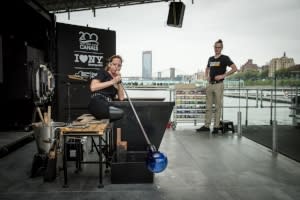 Poughkeepsie, N.Y. – Corning Museum of Glass (CMoG) GlassBarge docks at Waryas Park on the Poughkeepsie waterfront on June 9 - 10, offering glassblowing demos from 11 am - 5 pm, every 45 minutes. Up to 150 guests are welcome onboard for each 30-minute performance. It's free, but pre-registration is required to board at https://www.cmog.org/glassmaking/demos/hot-glass-demos/glassbarge. CMoG celebrates its 150th Anniversary of glassmaking, which began as the Brooklyn Flint Glass Company. Now Corning Incorporated, they relocated via the New York Waterways by canal barge to Corning, now a center for important artistic and technological innovations in glass. Dutchess Tourism, Inc. is sponsoring the barge's residency in Dutchess County.
This 30' x 80' canal barge is specially equipped with the Museum's patented all-electric glassmaking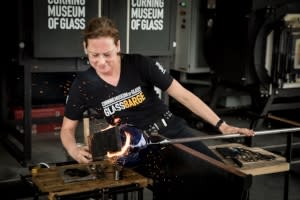 equipment. In addition to sharing the story of glassmaking in Corning, the recreation of the 1868 barge voyage emphasizes the continued role of New York's waterways in shaping the state's industry, culture, and community. A flotilla of historic ships will accompany GlassBarge throughout the summer, including the Lois McClure, a replica of an 1862 canal barge, part of the permanent collection of the Lake Champlain Maritime Museum. Everyone is invited aboard the Lois McClure at each port to learn about what life was like on board a canal barge in the 19th century. Tours are first come, first serve and don't require registration.
"Dutchess Tourism is thrilled to be able to bring the GlassBarge to Poughkeepsie," said Dutchess Tourism President & CEO Mary Kay Vrba. "Thanks to collaborations with the City of Poughkeepsie, lower main street restaurants, arts and entertainment groups, and more, it's going to be a great event to draw visitors to our waterfront."
In addition to the hot glass demos (rain or shine), there will be a festival on shore. The Dutchess County Historical Society's Over Here WWI exhibition will be on display, and Ill Harmonix will provide live music and entertainment for the weekend (weather dependent).
Poughkeepsie Mayor Rob Rolison said, "We're incredibly excited to welcome the Corning Museum of Glass organization to our city, and are appreciative that our community gets to play a part in its 150th anniversary celebration. We welcome people to Poughkeepsie's majestic riverfront to spend an afternoon learning about glass blowing techniques, touring a historic boat, and getting a bite to eat in the city's nearby eateries."   
The South Street Seaport Museum will also be on hand to share information about their role in the GlassBarge project. Again, due to limited seating aboard GlassBarge, reservations are strongly encouraged, and can be made at www.cmog.org/glassbarge.
"Our team of gaffers (glassmakers) welcomes the opportunity to share the art of glass with new audiences. We're eager to fire up the furnaces to 2100° for a summer of glassblowing on the waterways of New York!" said Steve Gibbs, Senior Manager of Hot Glass Business and Technology Development. "GlassBarge gives visitors the chance to see our glassmakers demonstrate how to shape glowing globs of molten glass into vases, bowls, and sculptures."
https://www.youtube.com/embed/?autoplay=1&rel=0 
In total, GlassBarge will travel to thirty cities and towns, offering glassblowing demonstrations at each port. GlassBarge is the 2018 signature event for the statewide celebration of the Erie Canal Bicentennial (2017-2025). A full summer schedule is available at www.cmog.org/GlassBarge.
###
ABOUT DUTCHESS TOURISM, INC.
Dutchess Tourism is the officially designated destination marketing organization for Dutchess County and is accredited by the Destination Marketing Accreditation Program (DMAP) of Destinations International. It is an independent 501c6 non-profit organization that works to bring tourism dollars to area businesses by marketing and promoting the assets of Dutchess County to the nation and the world. The office is located at 3 Neptune Road in the Town of Poughkeepsie with 18 Tourist Information Centers located around Dutchess County. The website is www.DutchessTourism.com and they can be reached at 845-463-4000. Dutchess County Tourism was founded in 1984 under the umbrella of the Dutchess County Economic Development Corporation, became incorporated as Dutchess Tourism, Inc. in 2014 and is partially funded by monies received from the County of Dutchess.
Contact: Nancy Lutz, 845-463-5446