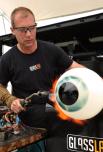 Featuring Designers from Cooper-Hewitt's Exhibition "Graphic Design-Now In Production"
Corning, N.Y. -
The Corning Museum of Glass will bring its GlassLab design program to New York's Governors Island this summer. On weekends, June 30-July 29, designers and graphic designers from the New York region will work with Corning Museum glassmakers in a series of free public glass design performances. The design performances will feature contemporary graphic designers included in the onsite exhibition
Graphic Design-Now in Production
, presented by Cooper-Hewitt, National Design Museum and co-organized by the Walker Art Center. Participating designers include
2x4 (Georgie Stout and Michael Rock)
,
Inna Alesina
,
Peter Buchanan-Smith
,
Rodrigo Corral
,
Keetra Dean Dixon and JK Keller
,
Eric Ku
,
Chris + Dominic Leong
,
Abbot Miller
,
Mike Perry
,
Leon Ransmeier
,
Paul Sahre
,
James Victore
, and
David Weeks
. A schedule is available at cmog.org/glasslab. GlassLab design sessions will take place next to Pershing Hall on Governors Island, on Saturdays and Sundays, 11:00 a.m. - 6:30 p.m., June 30 - July 29, 2012.  The designers will bring their sketchbooks and concepts and work side-by-side with glassmakers in a unique mobile hotshop developed by The Corning Museum of Glass. The teams will prototype their design ideas in live glassblowing sessions, allowing audiences to watch the evolution of the designs as they are created. A press preview will be held on Governors Island on the morning of June 29. "GlassLab provides designers with rare access to hot glassmaking processes, enabling them to experience firsthand the full potential of glass as a material for design-pushing the creative boundaries of both the designers and glassmakers," said Robert Cassetti, creative director of The Corning Museum of Glass. "We've worked with designers from a variety of disciplines, including fashion, product and even toy design. The design sessions on Governors Island add an exciting new facet to GlassLab by engaging a group of leading graphic designers and allowing them to translate their visions into three dimensions." Since 2007, the Corning Museum's GlassLab program has provided designers, including Yves Béhar, Constantin and Laurene Boym, Stephen Burks, the Campana Brothers, Nacho Carbonell, Matali Crasset,  Sigga Heimis, Max Lamb, Tomáš Libertiny, Ted Muehling, and Massimo Vignelli with unprecedented access to glassmaking technology, offering them the freedom to experiment with new design concepts alongside highly skilled glassmakers. GlassLab has taken place at high-profile art and design fairs, workshops, and museums in Europe and the United States such as Design Miami/Art Basel, Vitra Design Museum and Cooper-Hewitt, National Design Museum. The Corning Museum of Glass is presenting the exhibition
Making Ideas: Experiments in Design at GlassLab
on view from May, 19, 2012 through January 6, 2013, in Corning, NY, showcasing more than 150 glass design prototypes created at past GlassLab sessions. The exhibition, which emphasizes the role of designers and the process of creation using glass as a design material, will feature the glassmaking experiments of nearly 50 designers who have participated in GlassLab to date. To enhance the gallery experience, the Museum will host live GlassLab sessions on its Hot Glass Show stage. On Tuesdays and Wednesdays, May 29 - August 28, visitors will be able to move between the exhibition and the design performances to experience how GlassLab brings new ideas to life. Featured New York designers include Harry Allen, Wendell Castle and Michele Oka Doner. For a full schedule of GlassLab design sessions at the Corning Museum, visit
www.cmog.org/glasslab
. The Corning Museum of Glass is the foremost authority on the art, history, science, and design of glass. It is home to the world's most important collection of glass, including the finest examples of glassmaking spanning 3,500 years. Live glassblowing demonstrations (offered at the Museum, on the road, and at sea on Celebrity Cruises) bring the material to life. Daily Make Your Own Glass experiences at the Museum enable visitors to create work in a state-of-the-art glassmaking studio. The campus in Corning includes a year-round glassmaking school and creative center for artists, The Studio, and the Rakow Research Library, the world's preeminent collection of materials on the art and history of glass. Located in the heart of the Finger Lakes Wine Country of New York State, the Museum is open daily, year-round. Kids and teens, 19 and under, receive free admission.
###
For more information, please contact:
To access press images, visit our Press Center:
www.cmog.org/press-center