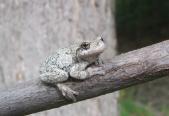 Cornwall, N.Y.
- On Friday, May 4 at a special time - 7:30 p.m. - the Hudson Highlands Nature Museum will be hosting
An Evening Frog Walk!
  Join Environmental Educator, Pam Golben at the Museum's Outdoor Discovery Center, on Muser Drive, across from 174 Angola Road, Cornwall, to learn how to identify frogs by their unique calls. Meet the Museum's native frogs and practice frog monitoring skills with an evening visit to the wetlands in search of these fascinating amphibians.   Participants will also learn about "Frog Watch", a Citizen Science project. Particpiants are urged to wear appropriate footwear and bring a flashlight. Recommended for adults with or without children and children ages 5 and up. Admission: $7/Adults, $5/Children. Museum Members: $5/Adults, $3/Children. This program is weather dependant and the rain date will be on Saturday, May 5. If weather is questionable, listen for message at 845-534-5506. For information, call (845) 534-5506, ext 204.Visit the museum's website at
http://www.hhnaturemuseum.org/
.                                                                                                                      ###
Photo Caption
: The Gray Tree Frog. Photo by Pam Golben. Come to the Hudson Highlands Nature Museum for an Evening Frog Walk - 7:30 p.m. at the Outdoor Discovery Center.
Contact:
Marian Goldin, Marketing Manager
Hudson Highlands Nature Museum
845-534-5506, ext. 215