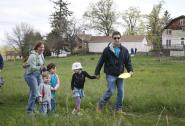 Cornwall, N.Y.
- On Sunday, May 13, at 10 a.m., the Hudson Highlands Nature Museum is offering a Guided Hike for Moms at the Outdoor Discovery Center, on Muser Drive, across from 174 Angola Road, Cornwall. Join environmental educator Carl Heitmuller for a Mother's Day morning of fresh air and sunshine. Take the family on a guided walk along the stroller friendly and gentle trails of the Outdoor Discovery Center to seek out the sights and sounds of spring. Recommended for all ages. Admission: $7/Adults, $5/Children. Museum Members: $5/Adults, $3/Children. For information, call (845) 534-5506, ext 204 or visit our website at
http://www.hhnaturemuseum.org/
.
###
Photo Caption
: Enjoy a Mother's Day guided hike on Sunday, May 13 - 10 a.m. at the Hudson Highlands Nature Museum. Photo by George Potanovic, jr.
Contact
: Marian Goldin, Marketing Manager Hudson Highlands Nature Museum 845-534-5506, ext. 215