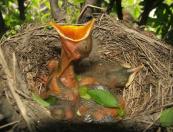 Cornwall, N.Y.
- On Saturday, April 10, at 10 a.m., the Hudson Highlands Nature Museum presents, "Nest Watch!" at the Outdoor Discovery Center, on Muser Drive, across from 174 Angola Road, Cornwall. Join environmental educator Pam Golben to learn about the different ways birds make their nests. This program will explain how to identify common bird nests found in this area. Make a Bluebird Box to take home which will attract birds including: Bluebirds, Chickadees, Tree Swallows, and Tufted Titmouse. Next, take a short walk to observe the nest boxes at the Outdoor Discovery Center. Optional additional materials fee per box is $15 limit one per family. Limited number of Blue bird box kits available at program. Please bring your own hammer and Phillips head screwdriver to use and dress for a short hike. Participants will also receive information on the Citizen Science Program "Nest Watch" where bird nesting activity can be reported directly to Cornell University.   Recommended for adults with or without children and for children aged 5 and up. Admission: $5. Museum Members: $3. For information, call (845) 534-5506, ext 204 or visit our website at
http://www.hhnaturemuseum.org/
.                                                                         ###
Photo Caption
: Learn how to identify common bird nests in this area at the Outdoor Discovery Center on Saturday, April 10 at 10 a.m. Baby birds in nest photo by Pam Golben.
Contact
: Marian Goldin Marketing Manager Hudson Highlands Nature Museum
http://www.hhnaturemuseum.org/
845-534-5506, ext. 215