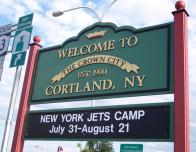 Cortland, NY
- A new website has been launched for Jets fans interested in visiting the Cortland community and surrounding areas in Central New York during team's upcoming summer training camp. The site,
www.cortlandsports.org/jets/
, offers a travel guide as well as information about local lodging, dining, entertainment, and more, said Chamber director Garry VanGorder. "Under normal circumstances Cortland does a very good job of accommodating its visitors, but obviously, these are not normal circumstances," VanGorder said. "We know many Jets fans don't know the first thing about Cortland, let alone our part of New York State, and we want to make their visit is as easy for them as we can. We want people to enjoy their trip here in every way possible." The web site, an informational brochure, directional signage, welcoming banners and flags, and a shuttle system designed to move fans from the SUNY Cortland camp venue into areas of interest in the community were all developed as part of a collaborative effort among the Chamber, the Cortland County Convention and Visitor's Bureau, the Cortland Regional Sports Council, and the city, county, and many other partners. "This is a great opportunity for us, and we know it," said CVB Director Jim Dempsey. "The entire community is behind the effort to insure Jet's fans have a great time during training camp and that they come back and visit us again during the year."
###