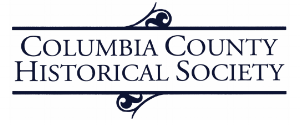 Launch of 2018 visitor season
CCHS is one of more than 2,000 museums across America to offer free admission to active military personnel and their families this summer
Celebrate Father's Day Weekend by Picnicking at a Historic Site
Columbia County, N.Y. – Columbia County Historical Society (CCHS) has announced its participation in the ninth annual Blue Star Museums, a collaboration among the National Endowment for the Arts, Blue Star Families, the Department of Defense, and more than 2,000 museums across America to offer free admission to the nation's active duty military personnel and their families from Memorial Day through Labor Day.
CCHS officially opens for its 2018 season on Saturday, June 16 -- open each weekend (Saturday and Sunday) from noon to 4pm.
"Columbia County is home to about 5,900 veterans, making our continued participation as a Blue Star Museum even more important for the community whose history, culture, and heritage we work hard to preserve and share. We are always proud to have veterans and active military personnel, along with their families, visit our three historic buildings and the CCHS Museum & Library. I believe of particular interest to Blue Star Families will be the interactive World War I exhibition at our museum," said CCHS Executive Director Lori Yarotsky.
"Visiting a museum is a great way to get to know a community—whether it's in your hometown or a stop on a road trip," said NEA Chairman Jane Chu. "We appreciate the enthusiasm of museums all across the country who open their doors for military and their families to spend time together and have new arts experiences."
"As many military families spend the summer months moving from one duty station to another, or reconnecting with a parent who has returned from deployment, Blue Star Museums helps service members and their families create memories," said Blue Star Families Chief Executive Officer Kathy Roth-Douquet. "Blue Star Families has great appreciation for the generosity of the museums across the country who roll out the red carpet for the families who serve alongside their service members. We are thrilled with the continued growth of the program and the unparalleled opportunities it offers."
Path Through History Weekend: Picnic At a Historic Site
Opening weekend also corresponds with New York's Path Through History Weekend, which the Ichabod Crane Schoolhouse and Luykas Van Alen House will be participating in. Path Through History Weekends are a showcase of New York State's rich and fascinating history and will feature hundreds of events happening at historic and cultural destinations throughout the state.
CCHS invites visitors to bring their own blanket and lunch so they can picnic on the lawn that houses both historic sites. Read more about Path Through History's initiative here:www.paththroughhistory.iloveny.com.
CCHS 2018 Visitor Season --
Columbia County Historical Society Museum & Library - 5 Albany Avenue, Kinderhook
Supreme Sacrifice: Columbia County in World War I
Electric Park
Shaker Baskets from the Shaker Museum | Mount Lebanon COMING SOON
Research Library
James Vanderpoel 'House of History' - 16 Broad Street, Kinderhook
NEW: New York Portraits from the Permanent Collection of CCHS
NEW: Study of Design Part 2: "Caned Construction"
CCHS Bookstore & Museum Shop
Ichabod Crane Schoolhouse - 2589 Route 9H, Kinderhook
Single Room Schoolhouse museum
Interpretive exhibit of the friendship between author Washington Irving and the local schoolteacher, Jesse Merwin
Luykas Van Alen House - 2589 Route 9H, Kinderhook
House museum of 18th century New York Dutch colonial life
Fragments of the Past: Archeology at the Van Alen House
###
Contact: Communications@cchsny.org