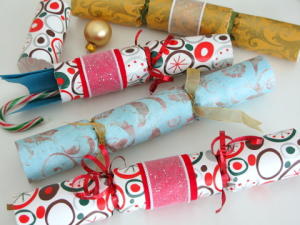 Saturday, November 23, 10:30 am
Staatsburg, N.Y. – Staatsburgh State Historic Site will offer a holiday craft workshop, teaching participants how to make Christmas crackers, on November 23 from 10:30a.m. until noon.  Popular Christmas dinner table favors during the Gilded Age, crackers are made of festive paper and ribbon, and make a popping sound (or "crack") when pulled open, revealing small presents and candy. The workshop includes all materials, light refreshments and a brief peek at the holiday decorations being assembled in the mansion. The workshop will also be offered on Saturday, December 14th, at 10:30 am.
The workshop is suitable for adults and children age 10 and older.  Reservations are required for the workshop and can be made by calling (845) 889-8851. The cost is $8 per person, or $20 for a family of up to 5 people. 
The site will also open its gift shop at 10:30 am on November 23, for some early-bird holiday shopping.  Members of the Friends of Mills at Staatsburgh will enjoy an even greater discount than usual on all merchandise on this special shopping day, and new members can join that day for discounts on programs and shop items throughout the year.
The historic rooms in Staatsburgh's Gilded Age mansion are splendidly decorated during the holiday season, and the site offers special hours and programs between November 29 and December 31.  For more information, call 845-889-8851, or visit Staatsburgh's websites at https://parks.ny.gov/historic-sites/25/details.aspx and www.facebook.com/StaatsburghSHS
Staatsburgh State Historic Site and the Ogden Mills & Ruth Livingston Mills Memorial State Park are located on Old Post Road in Staatsburg, off Route 9 between Rhinebeck and Hyde Park. The historic site is one of 6 sites and 15 parks administered by the Taconic Region of New York State Office of Parks, Recreation and Historic Preservation.
The New York State Office of Parks, Recreation and Historic Preservation oversees more than 250 parks, historic sites, recreational trails, golf courses, boat launches and more, which are visited by 74 million people annually. A recent study found that New York State Parks generates $5 billion in park and visitor spending, which supports nearly 54,000 jobs. For more information on any of these recreation areas, call 518-474-0456 or visit http://www.parks.ny.gov/, connect with us on Facebook, or follow on Instagram and Twitter.
###
Contact:
Donald Fraser | Staatsburgh State Historic Site, Interpretive Programs Assistant
Donald.Fraser@parks.ny.gov | (845) 889-8851 ext. 338