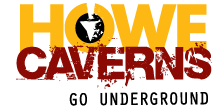 Craft Fair At Howe Caverns to Benefit Flood Relief, Local Children
Howes Cave, N.Y.
  - Howe Caverns will host its 2nd Annual Black Friday Weekend Holiday Craft Show from 10 a.m. to 5 p.m. on both Friday, Nov. 25, and Saturday, Nov. 26. Admission is free and the public is invited. The fee paid by the vendors at the Craft Show will be donated to Schoharie County Flood Relief and the annual holiday party  for local children,  "Santa Comes to Town,"  organized by Cobleskill's Little Italy restaurant. Local crafters will offer a variety of unique, handcrafted items. These include jewelry, miniature paintings, wool products, primitives, candles and vintage items. "Howe Caverns will be selling our homemade fudge with all proceeds going to benefit flood relief and the children," said General Manager Robert Holt. Soup and sandwiches will be available in the Howe Caverns Café. The Caverns' Gift Shops will be open and Traditional Tours of the great cave will be available from 9 a.m. to  5 p.m. (regular rates apply). Howe Caverns is closed on Thanksgiving Day. For more information, visit
http://www.howecaverns.com/
, or call 518-296-8900.
ABOUT HOWE CAVERNS
Howe Caverns is the largest cave open to the public in the Northeast and located midway between Albany and Cooperstown, off Exit 22 of I-88. Open daily, except Thanksgiving and Christmas days when it is closed, Howe Caverns' winter hours are from 9 a.m. to 5 p.m. from November 1 through March 31. Summer hours are from 9 a.m. to 6 pm from April 1 through October.
###
MEDIA CONTACT: Kathy Condon * Condon Communications PH: 518-436-1103 CELL: 518-441-0259
condonkathy@gmail.com