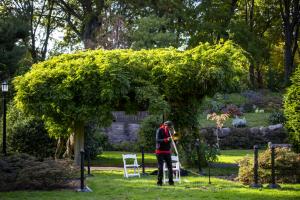 An Evening of Remembrance and Reflection
Performance Marks Anniversary of George Floyd Killing
Brooklyn, NY—On Tuesday, May 25, composer-trombonist Craig Harris returns to Brooklyn Botanic Garden for an outdoor performance of "Breathe," a work for an ensemble of 20 brass and percussion musicians. Says Harris: "'Breathe' is a sonic statement in response to the long-term and current injustices inflicted upon African-American people. 'Breathe' is offered to support the community in staying resilient and persistent in fighting for justice."

Harris comes from a tradition of using art as a cultural facilitator to help promote social change. Since the fatal shooting of Michael Brown in Ferguson, Missouri, in 2014, followed by the killing of Eric Garner in New York, he has been paying particular attention to the concept of breathing, which last year took on new meaning in the context of both COVID-19's disproportionate effect on the Black community and the murder of George Floyd in police custody.

With this live performance of "Breathe" on the one-year anniversary of Floyd's death, Harris reprises the work that was performed at BBG last spring and released virtually during the Garden's closure.

Entry to the Garden starts at 6 p.m.; the 75-minute performance starts promptly at 6:45 p.m. Visitors who have entered with daytime reservations are also welcome to stay for this special evening performance. Tickets are pay as you wish. 

For interviews, photo requests, or press admission to the performance, please contact communications@bbg.org.
About the Artist
Craig Harris is a composer-trombonist who has been a major figure in avant-garde jazz since he began working with Sun Ra in the 1970s. Harris's music invokes the entire history of the jazz trombone—from the growling, gutbucket intensity of early New Orleans music through the refined, articulate improvisation of the modern era set forth by J.J. Johnson into the confrontational expressionism of the '60s avant-garde.

While he performed with a veritable who's-who of progressive jazz, including Sam Rivers, Lester Bowie, Makanda Ken McIntyre, Jaki Byard, and Muhal Richard Abrams, his own projects displayed both a unique sense of concept and a total command of the sweeping expanse of African-American musical expression. Those qualities have dominated Harris's past two decades of activity, bringing him far beyond the confines of the jazz world and into the sphere of multimedia and performance art as composer, performer, conceptualist, curator, and artistic director. 
Support
"Breathe" at BBG is made possible by the New York State Council on the Arts with the support of Governor Andrew M. Cuomo and the New York State Legislature.
About Brooklyn Botanic Garden  
Founded in 1910, Brooklyn Botanic Garden (BBG) is an urban botanic garden that connects people to the world of plants, fostering delight and curiosity while inspiring an appreciation and sense of stewardship of the environment. Situated on 52 acres in the heart of Brooklyn and open year-round, the Garden is home to over 12,000 kinds of plants and more than 30 specialty gardens.

For hours, directions, and admission information, see bbg.org. Visitor entrances are at 990 Washington Avenue, 150 Eastern Parkway, and 455 Flatbush Avenue. Find out what's in bloom at bbg.org/bloom, read the Garden's blog at bbg.org/news, and learn what's happening at bbg.org/events. Follow @brooklynbotanic on Facebook, Instagram, and Twitter, and join the conversation using #BrooklynBotanicGarden. 
Media Contact: