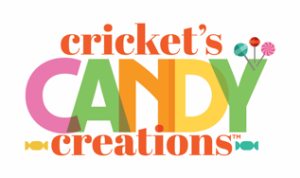 Fun Valentine Celebrations for All Ages 
New York, N.Y. – Cricket's Candy Creations announces Valentine Celebrations celebrating the month of love throughout February. This month the NYC multi-sensory experiential candy haven will be featuring new Valentine-themed candy crafts including Conversation Heart Chocolate Pizza, Candy Jewelry Heart Necklaces, Pink and Purple Glitter Slime, Candy Flowers, Edible Love Letters and more.
On Friday, February 10th will be a special teen night with an evening packed with sweet fun. Valentines and Galentines will enjoy pizza, a dessert that they have crafted themselves, and an appropriate Valentine-themed movie in the theatre.
Parents can treat their kiddos to Dessert Before Dinner on Sunday, February 12 with A Very Sweet Valentine Workshop making delicious and unique edible chocolate creations to gift to loved ones or enjoy themselves. Creations may include Conversation Heart Picture Frames, Chocolate Flower Pots and hot chocolate in a jar with decorator mug.
Cricket's Candy Creations also has parents covered during Winter Break with Candy Camp taking place February 20-24. Candy Coaches will guide creators through different candy crafts and games each day, which may include Candy Picture Frames, Sugar Shakers, and more. Candy crafts help kids learn through play with sensory experiences, practicing fine motor skills, and traditional disciplines, such as art and mathematics.
WHEN AND COST:             
Cricket's Candy Creations Candy Crafting Tour: Valentine Celebrations-themed crafts
February 1-26 from 11am – 6pm (excluding Monday & Tuesday)
$65 for general admission and $80 for Cherry on Top (VIP ticket)
February 10 from 5PM - 8PM
$80 for all attendees ages 13-17
Dessert Before Dinner: A Very Sweet Valentine Workshop
February 12 from 3:30PM - 4:30PM
$45 for all attendees ages 2 and up
Candy Camp: February Winter Break
February 20 - 24
•  Jelly Bean Camp:
•  Ages 4-7
•  10am – 11:15 am (optional drop off)
•   $400 for a full week of candy camp
•  Lollipop Camp:
•  Ages 8 & up
•  10am – 12pm (drop off)
•  $500 for full week of candy camp           
WHERE:           Cricket's Candy Creations
200 Hudson St
New York, NY 10013
Tickets to candy crafting tours are sold separately from the above special events, and can be found here: https://www.cricketscandy.com/tickets
###