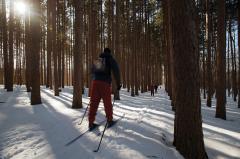 Get a great workout while enjoying New York State's magnificent outdoors in winter
Albany, N.Y.
- Close your eyes and take a deep breath.  Feel a calm fall over your body. Now open your eyes and imagine the beauty you'll encounter when you cross-country ski through the scenic wilderness of New York State. Cross-country skiing combines a spirited workout with the tranquility of nature.  Let the blank canvas of a snowy landscape clear your mind, freeing you to flex your imagination (along with some muscles) as you glide through the forest. Whether you go alone or with friends, you'll see how wonderful and soothing even exercise can be when set in the right atmosphere.  As varied as the people who embrace the pastime, cross-country skiing trails are found everywhere, from rail trails and parks to ski resorts and country clubs. From Long Island to Buffalo, you can enjoy marked and mapped cross-country trails offering a variety of terrain and discoveries. While there's a thrill to making the first imprint on fresh snow, beginners usually benefit from learning on groomed trails, which have packed snow and are easier to ski on. In many areas a small fee entitles you to follow an extensive system of trails leading you through a snow-laden landscape, and most areas offer rentals and instruction as well.  Intermediate and advanced skiers, or anyone open to adventure, may prefer ungroomed trails. Ungroomed trails do present some challenges, but when the conditions are good, the opportunities are endless. Most downhill ski areas also have extensive cross-country systems, so downhill and cross-country skiers can enjoy different sports the same day or visit. Ski centers usually offer equipment rental and other services like certified instruction, which lets you get the most out of your excursion. A one-hour class with a ski instructor provides you with the basic techniques: the classic gripping-and-gliding movement, how to turn, go down a hill and slow down. Mt. Van Hoevenberg Olympic Nordic Center, part of the Adirondack State Park in Lake Placid, is the flagship center of Nordic skiing. It offers 31 miles of groomed trails and childcare facilities in the lodge. Garnet is still mined in the area around Garnet Hill Lodge, but trails are the real treasure here. An elaborate trail system forma a back-country look with the 100,000-acre Siamese Ponds Wilderness Area. Kids have a blast staying at Lapland Lake resort, where outdoor fun goes into the night on lighted junior tubing hills. Olavi Hirvonen, a former Olympic cross country skier, and his wife Ann provide quality trails and hospitality at the old fashioned Adirondack resort with a Finnish accent. In recent years, lake effect snow from Lake Ontario has brought up to 400 inches of the good stuff to groomed trails at Osceola Tug Hill in Camden. The Tug Hill Plateau is gifted with snowy bounty and the pleasure is all yours. In most places it's easy to find superb lodging and dining and have the chance to meet fellow skiers. So, pack a snack, wax the bottom of your skis for a good grip, step onto the snowy carpet, and hit the trails as you glide quietly into a beautiful New York winter!   
A sampling of current cross-country skiing travel offers:
Tioga County is offering a cross country ski package which includes cozy overnight riverside accommodations for two at the Owego Treadway Inn in Owego, along with cross-country ski or snowshoe rentals for two for one hour (which you have an option to extend, or just bring your own skis/snowshoes) for use on the many trails of the Waterman Conservation & Education Center in Apalachin. The package, $168.95 per couple, per night, also includes a bottle of champagne upon arrival at the hotel and an exquisite dinner for two at the River's Edge Restaurant. For more information and reservations call (607/687-4500; 
http://www.owegotreadway.com/
;  
http://www.watermancenter.org/
) Placid Bay Inn, on Lake Placid, wants you to "Discover the Fun of Cross Country Skiing."  Wednesdays through Mondays (including holidays), through April 1, take advantage of a cross country ski package with a trail pass for two, rental equipment, and a one-hour group lesson at the Olympic Sports Complex, Mt. Van Hoevenberg. The cost is $70 per person, per day, double occupancy with a two night minimum stay. For more information call (518/523-2001;
http://www.placidbay.com/
) In Chestertown, in Warren County, Friends Lake Inn offers a cross-country ski or snowshoe package which includes one night's stay in a romantic guest room, a full Country breakfast for two, romantic three course candlelit dinner for two, boots and skis/snowshoes, trail access and more. The one-night package per couple starts at $391. For more information call (518/494-4751;
http://www.friendslake.com/
)   In Fulton County, Lapland Lake Nordic Vacation Center, in Benson, offers day and overnight lodging guests cross-country skiing and snowshoeing. Lodging guests receive complimentary use of cross country ski trails each day and evening including days of arrival and departure. Also included is the use of snowshoe trails, junior tubing hills, the resort's authentic Finnish wood burning sauna and 50 percent off a group lesson per person. Lodging is offered in 10 private tupas --housekeeping cottages containing living and dining areas, a fully equipped kitchen with full size refrigerator-freezer, stove-oven-broiler, microwave, electric coffeemaker, toaster, all pots, pans, utensils and dishware; separate bedrooms; bath with shower; electric baseboard heat and woodstove. Linens and wood are supplied. Double occupancy rates begin at $170/night midweek, $235/night weekends and $270/night holidays. A 25 percent single discount applies non-holiday Sunday through Thursday nights. For more information call (518/863-4974;
http://www.laplandlake.com/
) Bristol Harbour Resort in Canandaigua, Ontario County, is offering an overnight in a cozy rustic spacious room overlooking Canandaigua Lake, a dinner voucher for $55 per couple, cross-country ski rentals for a day, use of the outdoor Jacuzzi and  a bottle of Heron Hill wine (tax is additional).  The cost per couple Sundays through Thursdays is $178 per couple plus tax, Fridays and Saturdays, $218 per couple plus tax. Both are subject to availability. (585/396-2200;
http://www.bristolharbour.com/
) In Dutchess County, Chrystie House, in Beacon, a fully restored nineteenth century Federal-style mansion with four acres of historical gardens, is within walking distance to Beacon's local snowshoeing trails, and only 8 miles from Fahnestock Winter Park which includes 15 kilometers of groomed trails for cross country skiing and snowshoeing.  Room rates run from $175 to $225 per night. (845/765-0251;
http://www.chrystiehouse.com/
)
###
Cross Country Ski Areas
Hudson Valley
Fahnestock Winter Park, Cold Spring (845/225-7207;
www.roberts-1.com/fwp/
) Minnewaska State Park Preserve, New Paltz (845/255-9752;
http://www.nysparks.com/
) Mohonk Mountain House, New Paltz (800/772-6646; 845/255-1000;
http://www.mohonk.com/
) Orange County/Thomas Bull Park, Montgomery (845/615-3830)
The Catskills
Catskill Scenic Trail, Stamford (607/652-2821;
http://www.catskillscenictrail.org/
) Belleayre Mountain, Highmount (800/9426904; 845/254-5600;
http://www.belleayre.com/
) Frost Valley YMCA, Claryville (845/985-2291;
http://www.frostvalley.org/
) Mountain Trails XC Ski Center, Tannersville (518/589-5361;
http://www.mtntrails.com/
) Plattekill Mountain Resort, Roxbury (800/NEED2SKI; 607/326-3500;
http://www.plattekill.com/
)
Capital-Saratoga
Pineridge XC Ski Area, Postenkill (518/283-3652;
http://www.pineridgexc.com/
) Tree Haven Trails, Galway (518/882-9455;
http://www.bobstrees.com/
)
The Adirondacks
Adirondack Loj and Wilderness Campground, Lake Placid (518/523-3441;
www.adk.org/ad_loj
) Cascade Cross County Center, Lake Placid (518/523-9605;
http://www.cascadeski.com/
) Cunningham's Ski Barn, North Creek (800/888-RAFT; 518/251-3215;
www.cunninghamsskibarn.com/
) Dewey Mountain, Saranac Lake (800/491-0414; 518/891-2697;
http://www.deweyskicenter.com/
) Fern Park, Inlet (866/GO-INLET; 315/357-5501;
http://www.inletny.com/
) Friends Lake Inn, Chestertown (518/494-4751;
http://www.friendslake.com/
) Garnet Hill Lodge XC Ski Center, North River (800/497-4207; 518/251-2411;
http://www.garnet-hill.com/
) Gore Mountain, North Creek (800/342-1234; 518/251-2411;
http://www.goremountain.com/
) Crown Plaza Lake Placid XC Ski, Lake Placid (877/570-5891; 518/523-2556;
http://www.lakeplacidcp.com/
) Lapland Lake Nordic Center, Northville (800/453-SNOW; 518/863-4974;
http://www.laplandlake.com/
) McCauley Mountain, Old Forge (315/369-3225;
http://www.mccauleyny.com/
) Olympic Sports Center, Lake Placid (518/523-2811;
http://www.orda.org/
) Whiteface Club and Resort/Nordic Ski and Snowshoe Center (518/523-2551; 800/422-6757;
http://www.whitefaceclubresort.com/
)
Central New York
Alder Creek Country Inn, Alder Creek (315/831-5222) Gilbert Lake State Park, Laurens (800/456-CAMP; 607/432-2114;
http://www.nysparks.com/
) Glimmerglass State Park, Cooperstown (800/345-CAMP; 607/547-8662;
http://www.nysparks.com/
) Greenwood Park, Lisle (800/456-CAMP; 607/547-8662;
http://www.gobroomecounty.com/
) Oak Hill Farm, Esperance (518/875-6700;
http://www.oakhillxc.com/
) Oseola Tug Hill XC Ski Center, Camden (315/599-7377;
http://www.uxcski.com/
) Val Bialas Recreation Ski Center, Utica (315/266-0454;
http://www.cityofutica.com/
)
Finger Lakes
Beaver Lake Nature Center, Baldwinsville (315/638-2519;
www.onondagacountyparks.com/beaver-lake-nature-center
) Bristol Harbor, Canandaigua (800/288-8248; 585/396-2200;
http://www.bristolharbour.com/
) Cumming Nature Center, Naples (585/374-6160) Greek Peak Mountain Resort, Cortland (800/955-2754; 607/835-6111;
http://www.greekpeak.net/
) Highland Forest County Park, Fabius (315/683-5550;
www.onondagacountyparks.com/highland-forest
) Podunk XC Ski Center, Trumansburg (607/387-6716; 607/387-3093)
Greater Niagara
Byrncliff Resort, Varysburg (585/535-7300;
http://www.byrncliff.com/
)
Chautauqua-Allegheny
Allegany State Park, Salamanca (716/354-9121; 800/456-2267;
http://www.nysparks.com/
) Art Roscoe XC Ski and Mountain Bike Area, Salamanca (716/354-9121) Holiday Valley Resort, Ellicottville (800/323-0020; 716/699-2345;
http://www.holidayvalley.com/
) HoliMount, Ellicottville (877/754-4654; 716/699-2320;
www.holimont.com/
) Peek 'n Peak Resort, Findley Lake (800/772-6906; 716/355-4141;
www.pknpk.com/
)
About New York State
New York State features 11 beautiful vacation regions.  New York's attractions span from landmarks such as Niagara Falls, to the wine trails of Hudson Valley and treasures like the Baseball Hall of Fame in Cooperstown.  Whether it's wide-ranging outdoor activities for the whole family like fishing, hiking and boating, culinary wonders and farm-to-table fresh foods, or the rich history and culture of one of the 13 original colonies, New York State offers diverse activities for all travelers. For more information visit http://www.iloveny.com/. Media can find press releases and more at
http://www.thebeat.iloveny.com/
. Empire State Development is New York's chief economic development agency, committed to being recognized on a global scale as the economic development engine driving job growth, strategic investment and prosperity in New York State. ESD also oversees the marketing of "I LOVE NY," the State's iconic tourism brand.  For more information, visit
http://www.esd.ny.gov/
.
Photo caption:
Cross-country skiers traverse the wilderness at Cumming Nature Center in Naples, NY. Photo credit: Darren McGee, NYS Dept. of Economic Development
Contact:
Eric Scheffel (ESD)
escheffel@empire.state.ny.us
518.292.5274