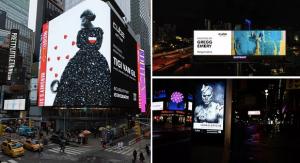 Cube Art Fair, the World's largest Public Art Fair, launches the first-of-its- kind NFT Art Fair in New York from June 25-27, 2021, offering a physical art viewing experience of NFT-only works to 10 million visitors
New York, N.Y. -- Following the tremendous amount of success of Cube Art Fair's recent exhibitions on 100+billboards in the streets of New York City, Miami and Brussels, which came as a creative solution to the cancellation of in-person shows due to Covid-19, Cube Art Fair is once again ahead of the curve. In an innovative and exciting format, Cube Art Fair is launching the first-of-its-kind NFT Art Fair in Times Square on June 25, 2021.
Cube Art Fair has managed to pivot its in-person art fair to a viewing experience throughout the streets of major art cities. With its reach as the World's Largest Public Art Fair showcasing artworks from established and emerging artists from around the world, Cube Art Fair aims to make art more accessible to the public. The launch of the NFT-only art fair amplifies its mission further. The NFTs will be featured on a massive 15,000 sq/ft billboard in Times Square, making a visual impact and providing the public greater accessibility to the NFT art market.
"We create an immersive viewing experience and an opportunity for the public to discover NFT artworks beyond their screens while also providing artists a platform to gain access to a wider market," says Gregoire Vogelsang, founder of Cube Art Fair and owner of the eponymous Vogelsang Gallery. "We are committed to continually remain creative in partnership with our artists. We are using the technology to empower artists and allow them to take control of their art and careers."
All the featured artworks from artists such as Tigi Van Gil, Daniela Mollenhoff, Carolyn Joe, Kenneth Willardt, Griet Van Malderen, Kelly Fischer, Jonas Leriche and Rubem Robierb among others are available as NFTs and will be on view June 25-27, 2021. Each NFT artwork is accompanied with a QR code that leads viewers to a platform where artists can sell their works.
About The World's Largest Public Art Fair
On the horizon of Cube Art Fair's 5th edition in 2020, the world stopped, making it difficult for the fair to host its annual in-person show. Instead of giving up, the team behind the show found a new way to keep art, hope, and inspiration alive.
Cube Art Fair, the World's Largest Public Art Fair, transforms billboards throughout New York City, Miami, and Brussels, into galleries featuring artworks created during the lockdown. Most recently, during Frieze Art Week in New York City early May 2021, Cube Art Fair featured 100 artworks on 100+ billboards around the city, in hopes to inspire its 10 million citizens to remain positive and artists to stay creative during uncertain times.
In an unprecedented scale, the pieces from established and emerging artists from around the world are shared on over 100 billboards, kiosks, bus stops and newsstands all around the city including the centerpiece of the exhibition, a giant 12,000 sq/ft billboard located in the heart of Times Square.
In the middle of a pandemic, Cube Art Fair has found an innovative way to showcase artworks from established and emerging artists from around the world in a way that is safe and accessible to the public.
The rise of NFT art
Nonfungible token (NFT) is a type of digital asset that represents real-world objects like art, authenticated and secured by blockchain. The recent explosion of interest in NFTs have been fueled by the global rise in legitimacy of cryptocurrencies and the digital art boom, headlined by multimillion-dollar and record-breaking sales from artists such as Beeple and Pak auctioned at Christie's and Sotheby's.
About Cube Art Fair
Cube Art Fair is a contemporary art fair with editions in Brussels and New York City.
In its normal operations, the fair promotes the works of American galleries and artists in the European Capital at the Vanderborght Art Center (a 60,000 sq/ft building in the heart of Brussels, Belgium) and in New York at the iconic Zaha Hadid building in Chelsea (one of the latest projects by the famous architect).
The fair gives artists the opportunity to build strong relationships with local art collectors through a series of events and intimate dinners taking place every night after public hours at collectors' private homes.
When Belgian gallery owner Gregoire Vogelsang started the Cube Art Fair in Brussels back in 2016, he never could have imagined what the world would look like now. After many successful editions in Brussels and New York in the past, the fair had successfully created a network of artists, gallerists and art collectors on both sides of the Atlantic. With his positive can-do approach, he has pivoted the fair and found a new purpose, supporting its artists through visual impact. "Artists have not stopped creating and the public demand to see art has not stopped either. It's up to us to be imaginative and think outside of the box to connect both together," concluded Gregoire Vogelsang.
CONTACT:
CUBE ART FAIR
Gregoire Vogelsang
Founder
@cubeartfair #cubeartfair #nftcubeartfair
C. +1 646 322 79 35
SUDEN PR
Breanna Suden
President & Founder
@sudenpr
C. +1 203 331 2706