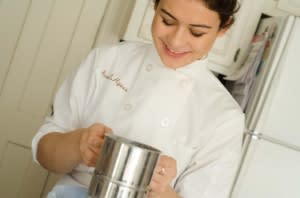 Adding your latest breakfast craving—a cocoa swirl almond streusel coffee cake to the menu
Rhinebeck, NY - ALL THAT JAVA, a popular tiny coffee house in Rhinebeck, NY which opened in August of 2016 is excited to announce the addition of their rich sour cream coffee cake with cocoa swirl and an almond streusel topping at their Rhinebeck location. (You can't even read that without salivating.) This culinary creation will be available at ALL THAT JAVA in Rhinebeck beginning on Friday, February 2.
ALL THAT JAVA, started by entrepreneur, Samantha 'Sam' Sapienza, is a local success story with locations this winter both in Rhinebeck and at Windham Mountain Resort. Sapienza and partner Patrick Madden have hired Culinary Institute of America (CIA) graduate, Avery Aguas as full-time barista and executive pastry chef. Aguas has created this sumptuous coffee cake recipe for ALL THAT JAVA inspired by her time at the Bouchon Bakery.
While studying Baking and Pastry at the CIA, Aguas was accepted as an extern at the Bouchon Bakery in Rockefeller Center where she fine-tuned her baking and pastry skills. Aguas began her career at ALL THAT JAVA as a part-time barista last summer at the Walkway Over the Hudson location. Because of her enthusiasm and great rapport with the Walkway Over the Hudson JAVA fans and her expertise in the kitchen, Sapienza and Madden recruited her to work full-time as a barista and to develop a food menu for the Rhinebeck-based coffee shop.
"I really wanted to bring the unforgettable quality you would receive at a NYC bakery to the Hudson Valley. I thought this special style of coffee cake was a perfect start for ALL THAT JAVA," expressed Aguas.
ALL THAT JAVA staff expect their cult following—who love the creative and quirky vibe instilled by Sapienza—to grow with the addition of this delicious treat.
For more information, visit allthatjava.net or on instagram @allthatjava or email at info@allthatjava.net
Contact:
Samantha Sapienza, All That Java, Owner
845.366.0121 | info@allthatjava.net
Ellen Henneberry, Media Consultant
845-902-8120 | ehenn4@ymail.com