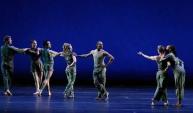 Master Class and "Arts Alfresco" Celebration of Art, Wine & Food Also Announced
Saratoga Springs, N.Y. - Bill T. Jones, one of the most innovative and powerful choreographers in the world of modern dance and the creative force behind Broadway hits Spring Awakening and Fela!, will share insights on dance from Saratoga Performing Arts Center's Amphitheatre Stage on Thursday, June 7 at 7:30 p.m. Following Jones's talk, the Bill T. Jones/Arnie Zane Dance Company will perform a mixed repertory program of avant-garde and classic works, including Jones's signature piece, D-Man in the Waters, never before seen at SPAC. Tickets, just $30, are available online at spac.org.
"With extraordinary vision and drive, Bill T. Jones has had a profound impact on the arts world. Using movement as a medium, he has created a body of work that is innovative to its core and that challenges audiences to explore the meaning and messages behind what they see on the stage," said Marcia J. White, SPAC's President and Executive Director. "To help audiences make these connections, Bill T. Jones himself will take the stage before the curtain rises to share his perspective and insights on these masterful works. This is a wonderful opportunity to experience in person, one of the arts world's most passionate and creative individuals," said White. Representing contrasting choreographic styles, the company's program consists of:
D-Man in the Waters: Bill T. Jones' joyful tour de force, a work reconstructed in full for the first time since 1999. The New York Dance and Performance "Bessie" Award-winning classic is a celebration of life and the resiliency of the human spirit that embodies loss, hope and triumph.
Spent Days Out Yonder: This work is a pure musical exploration, rare in the Bill T. Jones canon. Using Mozart's String Quartet No. 23 in F Major as the inspiration, the choreography follows Mr. Jones's elegant, weighted movement vocabulary.
Continuous Replay* completes the program, offering "a thorough primer in Jones/Zane style" (Thequently developed into a duet, and finally re-conceived as a group work in the 90's by Jones himself, Continuous Replay's history reflects the changing concerns and values of two dancemakers across three decades New York Times). A seminal dance work initially created in 1977 as a solo by Jones' late partner Arnie Zane and revised as a group piece by Bill T. Jones in 1991, the work is based on 45 shapes or gestures.
* This work includes full nudity.
This will be the company's second performance at SPAC; in 2010, the venue presented Jones' multi-media work,
Fondly Do We Hope; Fervently Do We Pray
.  The Company's 2012 performance takes place during a
three-week creative residency and summer intensive workshop for professional and pre-professional dancers hosted by Skidmore College.
Master Class at National Museum of Dance, June 6 at 6:30 p.m.
The other component of the company's educational activities is a Master Class taught by noted company dancer Shayla-Vie Jenkins on Wednesday, June 6, 6:30 p.m. at the National Museum of Dance. The Master Class will be a modern dance class that introduces material and concepts from the repertoire and explores group dynamics, group consciousness, weight sharing, level changing, and a movement vocabulary specific to the Jones/Zane style. The class is open to dancers at the intermediate skill level and above, who are at least 14 years old. Registration for the class, which is $20, is through the National Museum of Dance's School of the Arts, 518.584.2225 x3008,
school@dancemuseum.org
"Arts Alfresco" Precedes Company Performance
In support of its partnership with Saratoga ArtsFest, SPAC will host a first-ever "Arts Alfresco" event on the lawn from 6 - 8 p.m. prior to the dance company's performance. Designed as a unique celebration of fine art, food and wine, the event will feature gourmet, artisanal and comfort food creatively paired with wine and other beverages, presented by area arts organizations. The showcase will allow guests to explore and interact with the region's arts organizations and artists. The Alfresco event is free and open to ticketholders attending the performance. Participating organizations include the National Museum of Dance, Opera Saratoga, Universal Preservation Hall, Saratoga Chamber Players, Skidmore, HMT, the Tang Gallery, Hubbard Hall and the Saratoga Automobile Museum, among others. Saratoga ArtsFest, a weekend-long celebration of the arts, takes place at various locations around Saratoga Springs from June 7 - 10. Tickets to the Bill T. Jones/Arnie Zane Dance Company performance are $30, and available at
spac.org
. ArtsFest Pass holders are entitled to a $5 discount.  
###
Contact
: Shane Williams-Ness, 518.584.9330 x 116 M:518.378.0295
shane@spac.org
Lisa Hill, 518.584.9330 x 119 M:518.496.2882
lhill@spac.org
;
http://www.spac.org/