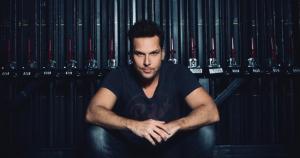 Tickets on sale Fri., Jul. 14
Waterloo, N.Y. – Two shows have been added to del Lago Resort & Casino's fall lineup: Comedian Dane Cook will take the Vine Showroom stage Fri., Oct. 6; and Emo Orchestra – a unique musical experience dedicated to the emo punk rock genre – will perform Sat., Oct. 21. Both shows take place at 8:00 p.m., and tickets go on sale this Fri., Jul. 14 at 10:00 a.m. More information can be found at: dellagoresort.com/entertainment/#upcoming-events
Comedy trailblazer and actor, Dane Cook, is known for his legendary stand-up comedy specials, unparalleled stage presence and observational humor. His record-breaking comedy specials include Vicious Circle, Harmful if Swallowed, Tourgasm and Rough Around the Edges: Live from Madison Square Garden. In addition to stand-up comedy, he is known for his various acting roles in movies such as Good Luck Chuck, Dan in Real Life, Employee of the Month and Waiting…
In October 2022, Cook released his comedy special, Above It All, through the emerging platform, Moment, which quickly soared to the top of the comedy album charts. Above It All, for which Cook reteamed with famed director, Marty Callner, debuted with an unforgettable premiere event at the world-famous TCL Chinese Theatre. Most recently, Cook announced that he has partnered with Super Channel to produce a documentary on his life, titled Brace for Impact: The Dane Cook Story.
For emo lovers and orchestra aficionados alike, there's a new show in town. Emo Orchestra, created by Ben Mench-Thurlow, brings you a unique and incredible new experience that brings together the emo hits of your youth with a touch of adult elegance. Featuring special guests Hawthorne Heights, along with a full orchestra arrangement, Emo Orchestra will be embarking on its inaugural tour this fall.
Emo Orchestra is a perfectly designed tribute to the music that shaped emo fans when the genre first exploded, but is tailored to the people its fans have become in the years since. In addition to playing their own songs, Hawthorne Heights will perform a vast array of emo hits that will have formative memories flooding back while brand new ones are created at the same time. Emo Orchestra and Hawthorne Heights invite you to dress up or dress down for an evening of music that you won't forget.
Guests must be 21 to attend all shows at The Vine. Tickets are also on sale for upcoming performances and rescheduled shows, already announced at The Vine, including:
Andy Grammer - The New Money Tour – Jul. 14, 2023, 8:00 p.m.
Jackson Dean – Jul. 22, 2023, 8:00 p.m.
Matt Rife - The Chipped Shoulder Tour – Aug. 1, Aug. 2 and Aug. 3, 2023, 7:00 p.m. and 9:30 p.m. (SOLD OUT)
Brian McKnight – Aug. 12, 2023, 8:00 p.m.
Daughtry – Aug. 19, 2023, 8:00 p.m.
Priscilla Presley – Sept. 15, 2023, 8:00 p.m.
Wheeler Walker Jr. - The Spread Eagle Tour – Sept. 30, 2023, 8:00 p.m.
Dane Cook – Oct. 6, 2023, 8:00 p.m.
Forever Seger - The Silver Bullet Experience – Oct. 7, 2023, 8:00 p.m.
Pam Tillis and Lorrie Morgan - Grits and Glamour Tour – Oct. 20, 2023, 8:00 p.m.
Emo Orchestra – Oct. 21, 2023, 8:00 p.m.
Grand Funk Railroad – Nov. 10, 2023, 8:00 p.m.
Derek Hough - Symphony of Dance – Nov. 24, 2023, 8:00 p.m.
Matt Rife - ProbleMATTic World Tour – Mar. 28 and Mar. 29, 2024, 7:00 p.m. and 9:30 p.m.
An Intimate Evening with David Foster & Katharine McPhee – May 11, 2024, 8:00 p.m.
Additional information about The Vine Showroom and entertainment at del Lago is available at: dellagoresort.com/entertainment/
Photo: Dane Cook
About del Lago Resort & Casino
Located in the Finger Lakes region, del Lago Resort & Casino is a $440 million casino and AAA Four Diamond 205-room hotel in Waterloo, New York. The gaming floor features slot machines, gaming tables and TwinSpires Sportsbook at del Lago, a 6,000-square-foot state-of-the-art sportsbook lounge complete with a restaurant and bar. Dining options include the award-winning Portico by Fabio Viviani, a 4,200-square-foot food court and The Sociale Café & Bar. del Lago Resort & Casino has been named North America's Best Casino and New York's Best Casino Hotel in 2021 and 2022 by the World Casino Awards. It was also named the No. 1 casino hotel in New York State and among the top five in the country in the 2019 USA Today 10Best Readers' Choice travel awards. del Lago is home to The Vine, a 2,400-person entertainment center, voted 2019 Showroom of the Year by the Global Gaming Casino Entertainment Awards. For more information, visit delLagoResort.com.
Website | Facebook | Twitter | Instagram
About Churchill Downs Incorporated
Churchill Downs Incorporated ("CDI", NASDAQ: CHDN), owner of del Lago Resort & Casino, has been creating extraordinary experiences for nearly 150 years, beginning with the iconic Kentucky Derby. Headquartered in Louisville, Kentucky, CDI has expanded through the development of live and historical racing entertainment venues, the growth of TwinSpires online wagering business for horse racing and the operation and development of regional casino gaming properties. More information is available at churchilldownsincorporated.com.
Media Contact:
Brittany Lynn
Break the Ice Media
C: 470.981.2693
del Lago Resort & Casino Contact:
Joel Ballesteros
Director of Entertainment & Player Development
joel.ballesteros@dellagoresort.com
O: 315.946.1832