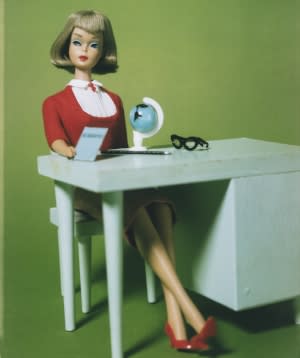 The exhibition will be the first museum retrospective of the photographer's work in more than 20 years; exhibition preview and book signing event on May 31 
Rochester, N.Y., May 16, 2018—The George Eastman Museum will premiere the first museum retrospective of artist David Levinthal in more than 20 years, on June 1, 2018. To accompany the exhibition, the George Eastman Museum is publishing a deluxe collector's box set and a single-volume monograph of Levinthal's work. Copies of the monograph will be available for purchase and signing at the exhibition preview on May 31 at 6 p.m.
David Levinthal is an astute observer of American popular culture and of the profound impact of photographic images on society's understanding of history and current events. Since the 1970s, he has channeled these insights into his artwork, exploring the relationship between photography and the events, characters, myths, and fantasies that shape our national character. His work, which lies at the intersection of photography and contemporary art, has made an essential contribution to the history of art and continues to resonate with audiences today.
David Levinthal: War, Myth, Desire, consists of 121 photographs, including works from all of Levinthal's major series to date, as well as some that have rarely or never been exhibited previously, along with related books and ephemera, giving visitors a unique opportunity to consider Levinthal's most recent work alongside key works from the full scope of his career. The exhibition will include photographs from all of his major series to date—the best-known of which include Hitler Moves East (1972–75), Modern Romance (1983–85), The Wild West (1986–89), Desire (1991–92), Blackface (1995–98), Barbie (1997–98), Baseball (1998–2004), and History (2010–15).
About the exhibition catalogue: War, Myth, Desire
The exhibition catalogue, published by the George Eastman Museum, consists of a deluxe collector's box set and a single-volume monograph. The box set includes three books of plates on each of the exhibition's themes—War, introduced by Pulitzer Prize–winning cartoonist Garry Trudeau; Myth, introduced by David Levinthal; and Desire, introduced by memoirist, essayist, and novelist Roger Rosenblatt—and a book with three essays on the artist's work, a chronology of his career, a bibliography, and the exhibition checklist.
The monograph consists of the three essays, a selection of plates covering the three themes, the chronology and bibliography, and the exhibition checklist. The authors of the essays are curator in charge of the Department of Photography at the George Eastman Museum Lisa Hostetler, contemporary art specialist Joanna Marsh, and art critic Dave Hickey. Both publications provide the most up-to-date, comprehensive scholarship on the artist's work. The books will be available in the Museum Store and online.
The museum is hosting several public programming events in support of the exhibition, including a series of 15 films curated by Levinthal, that have inspired his work. The films will be presented in the Dryden Theatre this summer. Visit, eastman.org/dryden for more information. 
Thursday, May 31, 6–8 p.m.
Exhibition Preview & Book Signing: David Levinthal: War, Myth, Desire
Curator Lisa Hostetler will give opening remarks, followed by a book signing with the artist and a preview of the exhibition in the main galleries. Free to members, $15 general, and $10 students. Reservations suggested: membership@eastman.org. 
Friday, June 1, 12 p.m.
Gallery Talk with Photographer David Levinthal
Photographer David Levinthal and Curator in Charge Lisa Hostetler will be in conversation and guide guests through the exhibition War, Myth, Desire.
Friday, July 13, 1 p.m.
Saturday, August 18, 1 p.m.
Curator's Gallery Talk
Gain deeper insight into David Levinthal's photographs and the themes of the exhibition at a gallery talk by curator Lisa Hostetler.
July 23-July 27, Flower City Arts Center
Studio Photography for Teens Workshop
In this weeklong workshop, students will create their own interpretation of historical events using toys and other materials, and then learn how to light and photograph them. Students will also meet David Levinthal for an exclusive tour of his exhibition. $300 / $275 members. Register at rochesterarts.org 
Tuesday, July 24 7:30 p.m.
Out of the Past (1947) screening with Special Introduction by David Levinthal
Movies—from westerns and war films to film noir—have been an important source of inspiration for David Levinthal. The artist has curated this series of some of his favorite titles. $10 general, $7 members, $5 students, free for ages 17 & under.
Saturday, August 11, 9-11 a.m.
Photographing in Miniature: Tour and Bootcamp
Take a tour of the exhibition with curator Lisa Hostetler and manager of digital engagement Kate Meyers Emery. Then, style your own scenes with toys and backgrounds inspired by David Levinthal's work, and learn how to use scale, lighting, and framing to make them appear lifelike. Tickets: $25. Advance tickets required; limited to 20 participants. 
Thursday, September 6, 6 p.m.
Gallery Talk: The Toys of War, Myth, Desire
Christopher Bensch, vice president for collections and chief curator at the Strong National Museum of Play, will lead guests through the exhibition and discuss the historic and cultural impact of the toys David Levinthal uses in creating his photographs. Free to members; included with museum admission.
Saturday, September 15, 12 p.m.
Focus 45 Talk—Recent Acquisition: The David Levinthal Photograph Collection
A large gift of photographs by David Levinthal in 2017 made the Eastman Museum the most significant repository of the artist's work in the world. How did this come to be? What is the significance of the gift, and what is happening behind the scenes of the museum to make the material publicly accessible? Curator Lisa Hostetler will answer these questions and more. Free to members; included with museum admission. 
Thursday, November 1, 6 p.m.
Artist's Talk: David Levinthal
Levinthal will discuss his prolific career as a photographer. Book signing to follow. Galleries will be open until 8 p.m. Free to members, $6 general, $3 students.
The Eastman Museum presented Levinthal's first solo museum exhibition when it mounted Hitler Moves East in 1978, and it premiered his most recent series of photographs, History, in 2015. Like the latter, David Levinthal: War, Myth, Desire is curated by Lisa Hostetler. It will be on view at the George Eastman Museum through January 2, 2019. Major support for the exhibition has been provided by the Henry Luce Foundation and the exhibition catalogue was generously supported by Donald Rosenfeld. For more information, visit eastman.org.
About the George Eastman Museum
Founded in 1947, the George Eastman Museum is the world's oldest photography museum and one of the largest film archives in the United States, located on the historic Rochester estate of entrepreneur and philanthropist George Eastman, the pioneer of popular photography. Its holdings comprise more than 400,000 photographs, 28,000 motion picture films, the world's preeminent collection of photographic and cinematographic technology, one of the leading libraries of books related to photography and cinema, and extensive holdings of documents and other objects related to George Eastman. As a research and teaching institution, the Eastman Museum has an active publishing program and, through its two joint master's degree programs with the University of Rochester, makes critical contributions to film preservation and to photographic preservation and collections management. For more information, visit eastman.org.
# # #
[EXHIBITION] PROMOTIONAL IMAGES for David Levinthal: War, Myth, Desire can be downloaded with captions at the following link: https://eastmanmuseum.box.com/v/davidlevinthal2018.
[BOOK] PROMOTIONAL IMAGES for War, Myth, Desire can be downloaded at the following link: https://eastmanmuseum.box.com/v/levinthalbookimages.
Media Contact: Kellie Fraver, George Eastman Museum
(585) 327-4813 / (585) 314-1552 (cell)